I have talked about reinventing this blog about a zillion times. I am about 87% sure I have it figured it now. Thanks to a day off from work from what I believe is a slight bit of food poisoning I had time to sit and think a lot about what I wanted to do with this platform I have.  I have learned that people, although we all love blogs about food/decor/fashion etc. there is a whole wide world out there who wants pure honest thoughts on what it is to be HUMAN. I have struggled with keeping up with the endless amount of infamous bloggers/Instagramers and honestly it has really taken it's toll on my self worth. This is by no mean a "woe is me" moment. I am just being honest. Those other folks work their butts off to get to where they are …..and now it's my time to step it up. I am aware that the way I see myself is awful. I am so friggin' hard on myself on so many levels. Combine that with bouts of severe crippling anxiety (the kind where your chest gets tight and starts to hurt) and feelings of deep depression and you have a bit of a mess. But hey! We are human and we are broken. All of us have something that tries to attack us. I have been inspired by Jenny Lawson so much to really come out and share my life, my dreams, my quirkiness and even the dark parts of my life. I want to do this because I know that somewhere in the world there are folks who need to know that they are not alone.  So starting the 2nd day of May in 2017 I have decided to be raw.
Here is what you are in for……
This is me.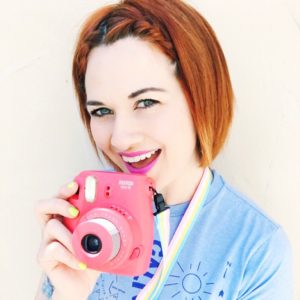 (photo taken by Mark Kellems 4-30-17)
Here is what we will be discussing in the future:
The fact that I love all things colorful.
I am believer in God and Jesus. And that it's ok if you don't share those beliefs w/me. I will still treat you with respect and support your love for life.
I am addicted to hair color. Can't seem to ever make up my mind. I am sure we there will be many post about my adventures of coloring my hair and possibly frying it off in the process.
I have been a vegan for about a year and a half. Before that I was vegetarian for about 20 years. I want to share yummy recipes that my husband (mostly him, because he is a much better cook than I) will experiment with!
I am a dog momma to the cutest pup in the entire world. her name is Zooey Beans and you will see/hear about her a lot I am quite sure of it.
I love it when the artistic bug hits me. I really enjoy watercoloring, photoshop, and photography.
Music is my jam! #seewhatididthere? I will be sharing reviews of shows I go to, album reviews, interviews with wonderful musicians and more. (Pretty much the original vibe of this blog) This will not be my main focus, but will be a bonus fun time!
I want to speak openly about my battles with depression, anxiety and self harm because they are fierce and deserve to squashed. I hope to be a beam of light to those who also share the same battles as I do. If you are one of those please know …YOU ARE NOT ALONE. Stay strong. You are beautiful. Life can be rocky but it can be wonderful and magical at the same time.
I am currently writing a story with my husband that is based in the 90's. Not sure how much I can talk about it publicly because there are rules about copyright related issues….however I am obsessed with the 90's so I am sure we will discuss that amazing decade on this blog of mine.
Let's just sum it by saying I want to share my life with you. The great times and even the sometimes messy parts. 
Let's get real, folks.
Let's bring joy, hope, life and honesty to this world. Ya with me?
XOXO,
Christie Gee-Kellems