I am not going to lie to ya. It took me a long dang time to appreciate living here in Los Angeles. When you come from a small southern town and quickly make a decision to move to L.A. you will feel like a redneck duck out of water. Over the years I have found my place here in this city and a few places that I have fallen in love with. One of those places being The Ace Hotel in DTLA. (Downtown Los Angeles)
"Ace Hotel Downtown Los Angeles opened early 2014 in the historic United Artists building in Downtown LA. Built in 1927 for the maverick film studio, this ornate, storied and vibrant Los Angeles gem stands as a monument to a group of seminal American artists pushing out on their own, and anchors the Broadway Theater District's modern renaissance. Mary Pickford's love for the ornate detail and stone spires of Spanish castles and cathedrals is manifest at the theater — a true temple of the arts. The mixture of reverent awe and irreverent independence is right up our alley — this is the kind of project we dream of."- (Courtesy of their website) 
This past weekend my husband, bff and myself met up with some friends for a brunch hang out! (I enjoyed the Avocado Toast and it was ammmmmmmazing).  I have to say though that the rooftop is my ultimate favorite.  As you can see here you can find some delicious beverages while lounging in a sea of pillows! The drink pictured here is a spicy margarita. Yummmmm. It wasn't quite on the menu however the amazing bartenders here are pretty much the best in the city! As someone with some pretty bad social anxiety at times, I normally hate crowded places. Yet the patrons of this rooftop are unlike most others in Los Angeles. I feel at home here. If I said it wasn't populated by mostly hipsterish folks I would be telling a false tale. But….let's be real….about 90% of this city is made up of hipsters and the other 10% have hints of their very own hipster vibes within them. With that said, you will see your share of big hats, cutoff shorts, overalls, giant sunglasses, tattoos, etc. The greatest part to me is that I never feel like I am some uncool misfit. I am never anxious about "having to go" to the Ace. I genuinely WANT to be there.
(Photo of me taken by BFF Lisa Andes)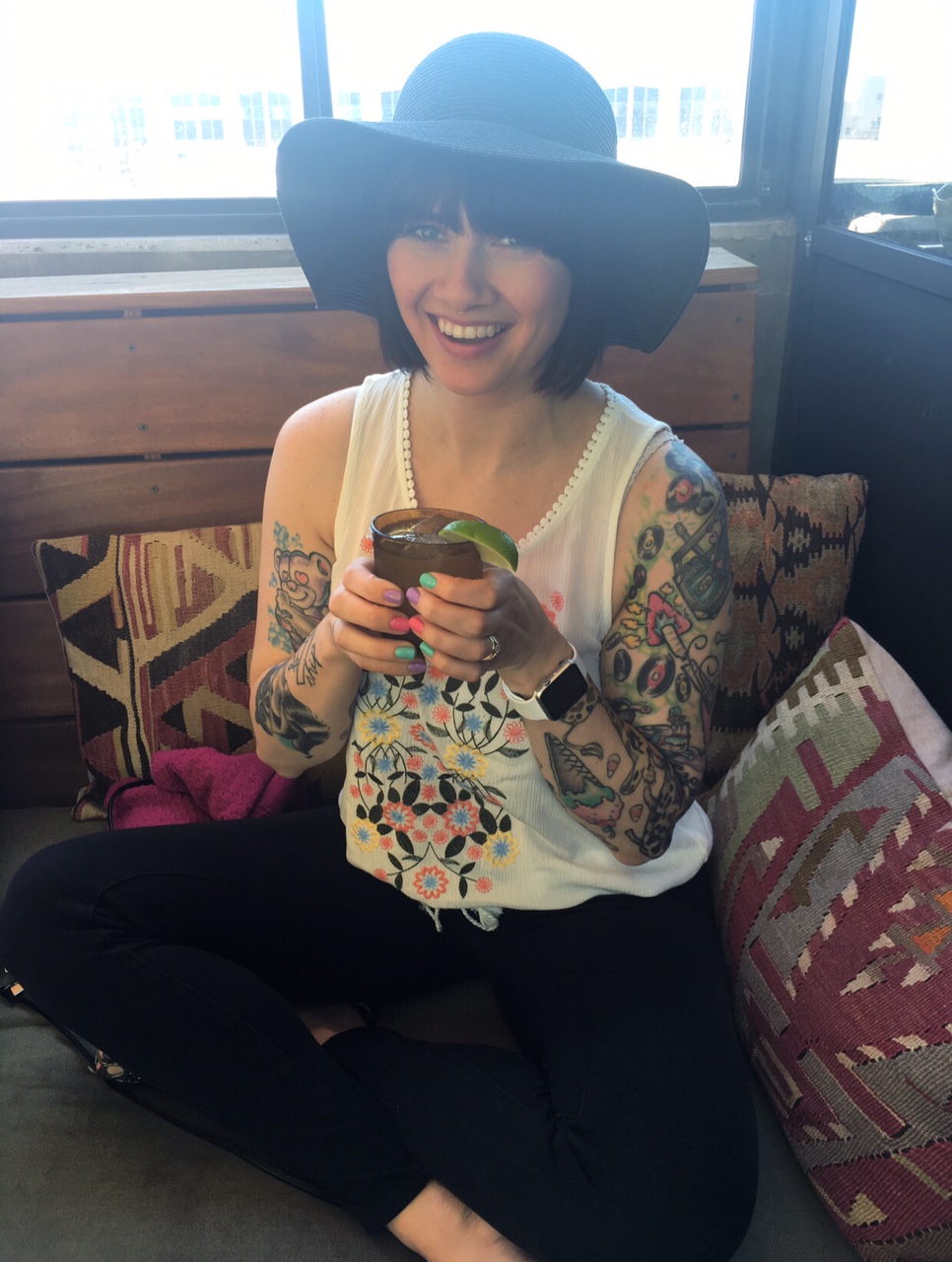 I quite enjoyed the TWO drinks I gulped down! One was just not enough because of the deliciousness of them.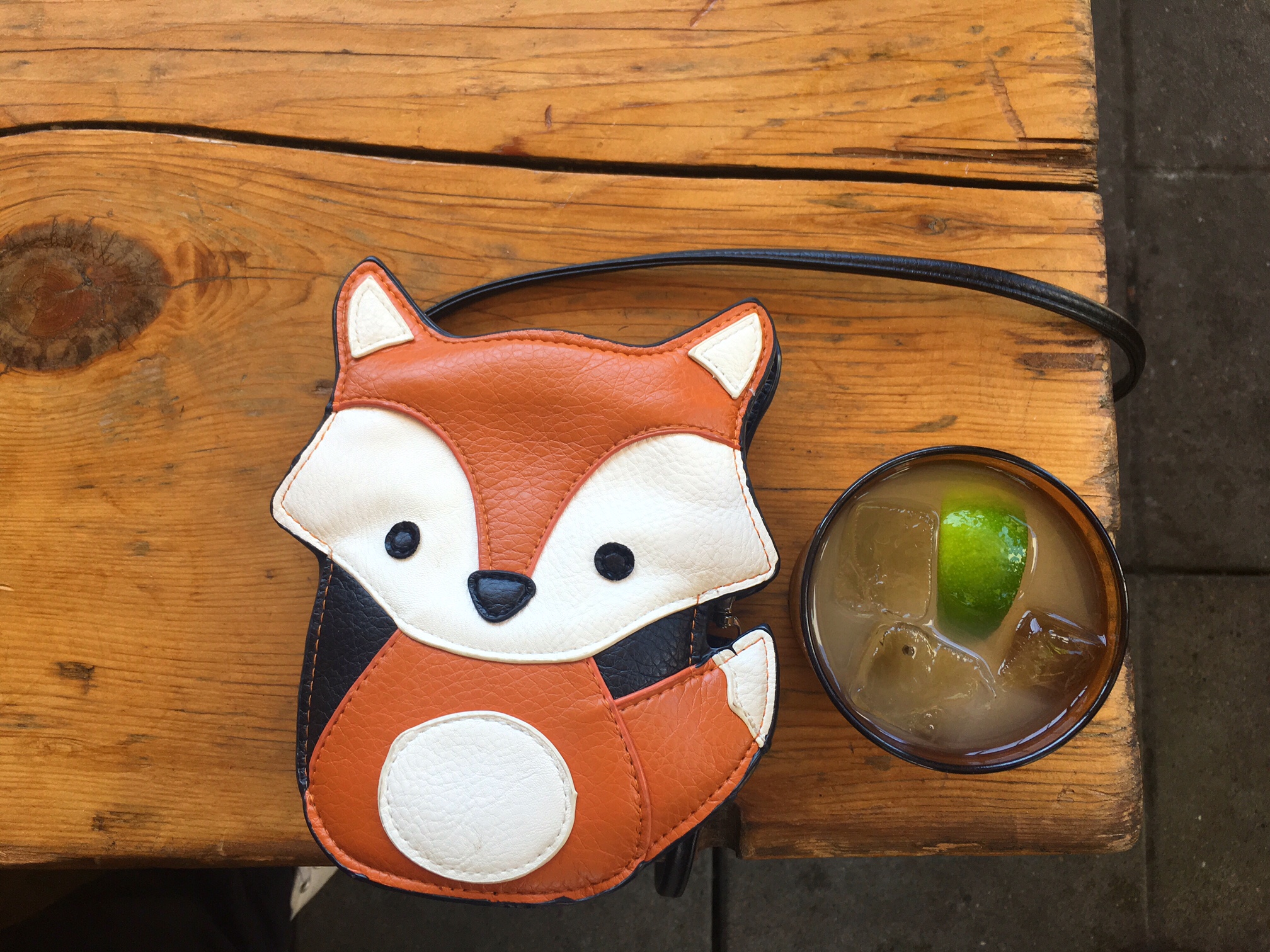 When you overlook the view of the rooftop you can see the this infamous 'Jesus Saves' sign. (which I have flipped and edited) At night from the opposite side of the sign you can read it in all it's neon glory!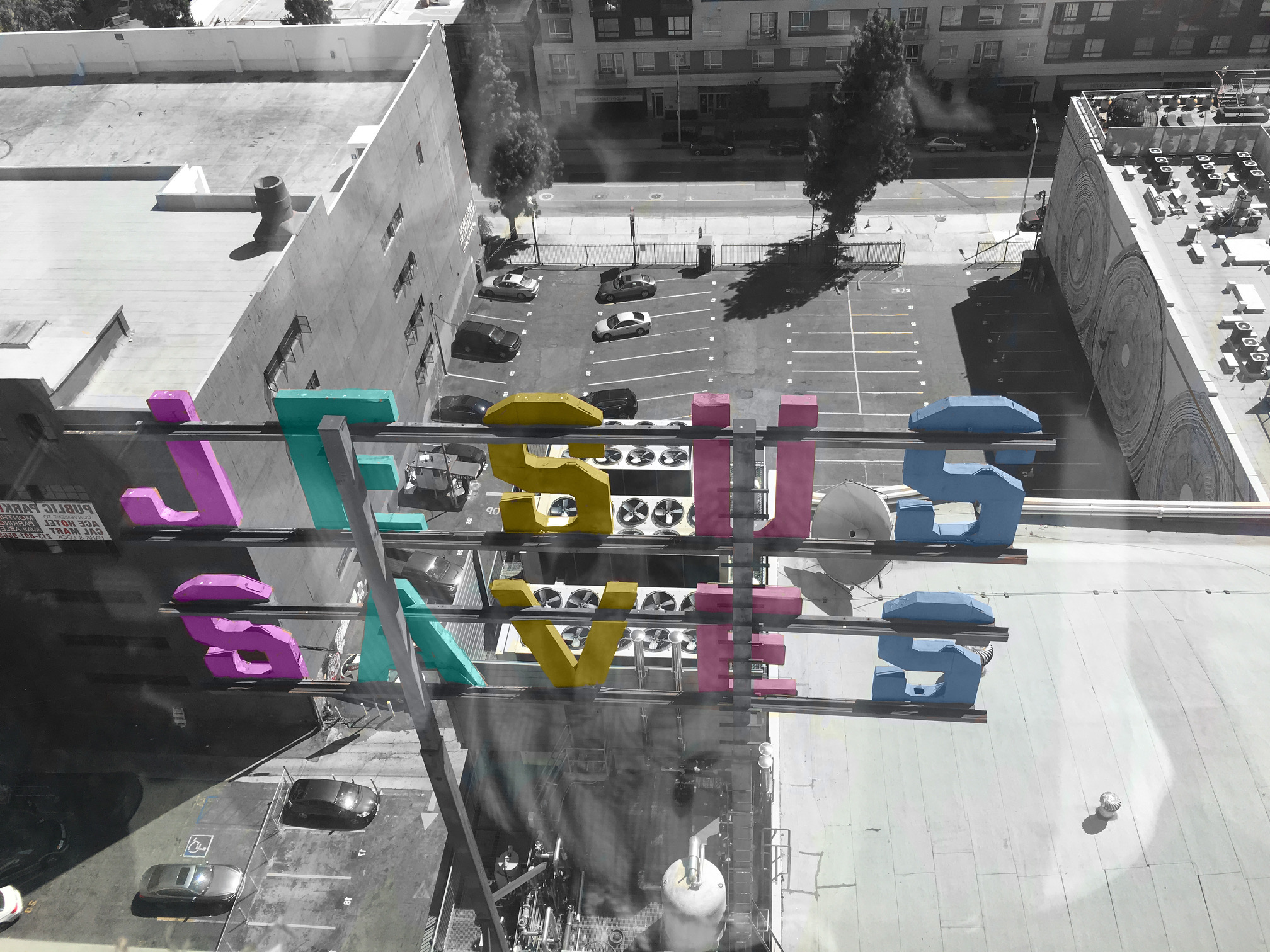 All in all this rooftop is beautiful (especially at night) with the view, the lush plants, canopies. The staff is amazing! Currently if you wear anything with stripes you may be mistaken for staff member. I love that you can tell who works there by the stripes and not a traditional "uniform." You wear stripes…you will for sure be mistaken for one of these amazing servers on the rooftop.  One of our favorite servers, Derrick, has this red hat that reads "ACE" that I also LOVE a ton. (See above "MAIN photo")
BONUS! There is always, always. ALWAYS music playing and sometimes someone is there spinning tunes so the vibes are continuously great.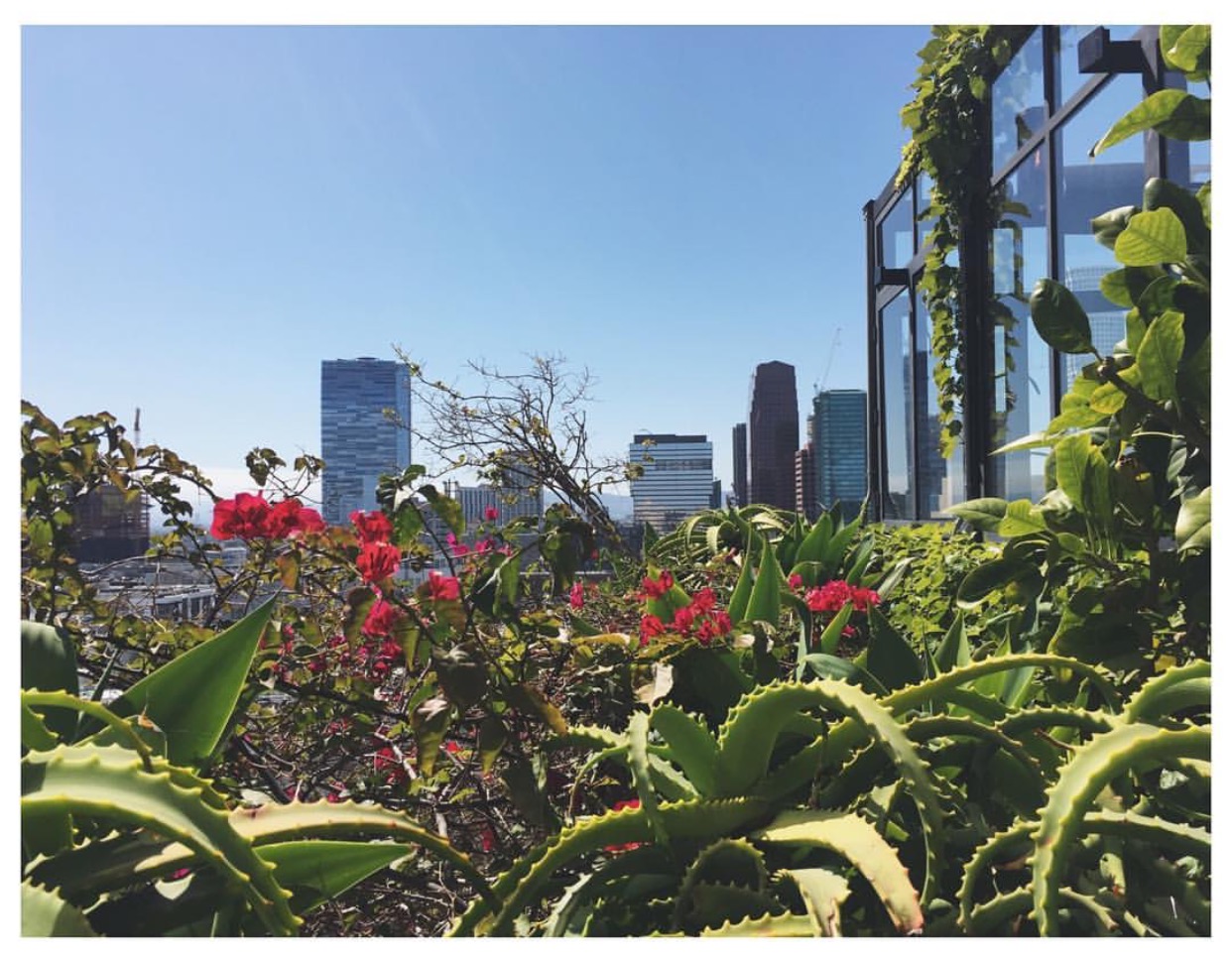 (above photo by: Lisa Andes)
The exterior of this hotel is beyond beautiful. I have said it before and I will say it again, Downtown Los Angeles, I love you. There is something about older architecture that is magical and makes you feel all the feels.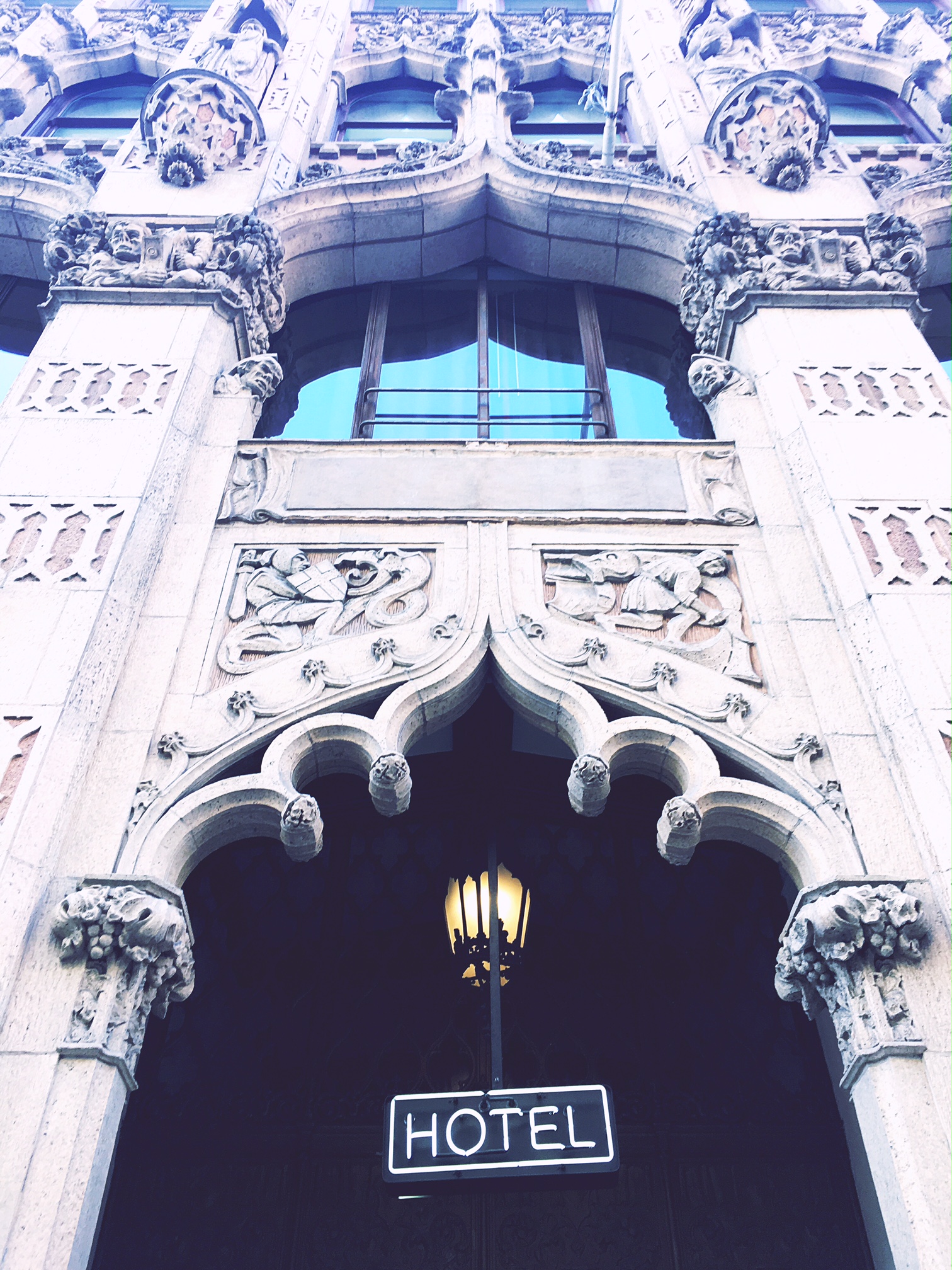 The next best part of this amazing hotel is the theater that is right next door.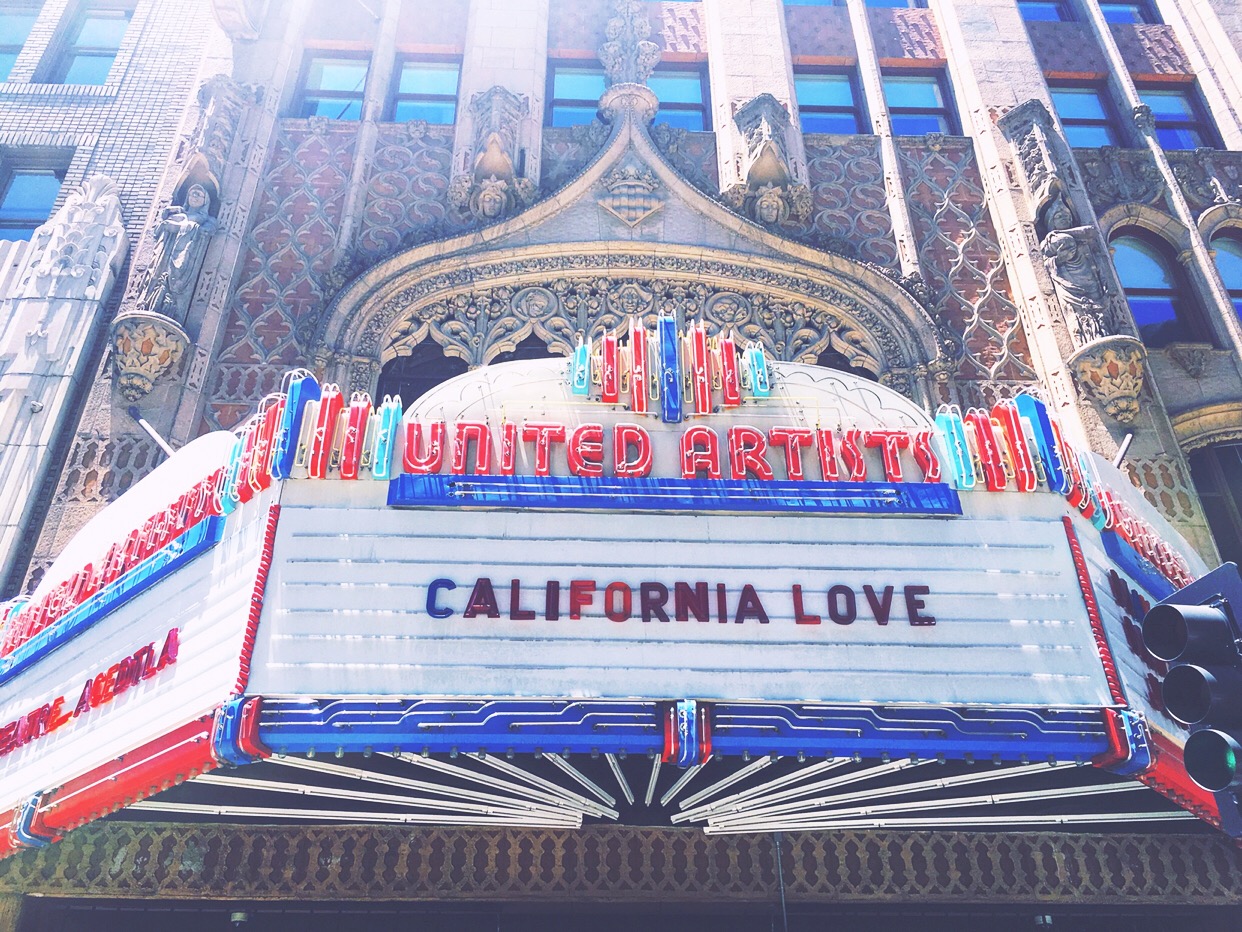 According to their website, "United Artists studio and theater was the vision of silent movie starlet Mary Pickford, who — together with Douglas Fairbanks, Charlie Chaplin and DW Griffith — dreamt of forming an independent production house outside of the established Hollywood studio system. With the help of architect C. Howard Crane and Los Angeles architectural firm Walker & Eisen, the group erected the United Artists Theater and its adjacent tower — the tallest building in all of Los Angeles upon its completion. 
Though it changed hands frequently over the following decades, the United Artists Theater stayed active as an arts venue until 1989, including a long stint as a Spanish-language movie house, and later as the broadcast site for televangelist Dr. Gene Scott. Following a meticulous restoration of the then-vacant movie palace, Ace cut the ribbon on The Theatre at Ace Hotel in February of 2014 — and we've been doing our best to honor the maverick spirit of its founders ever since."
I have a special bond with this theater because it is where my husband proposed to me.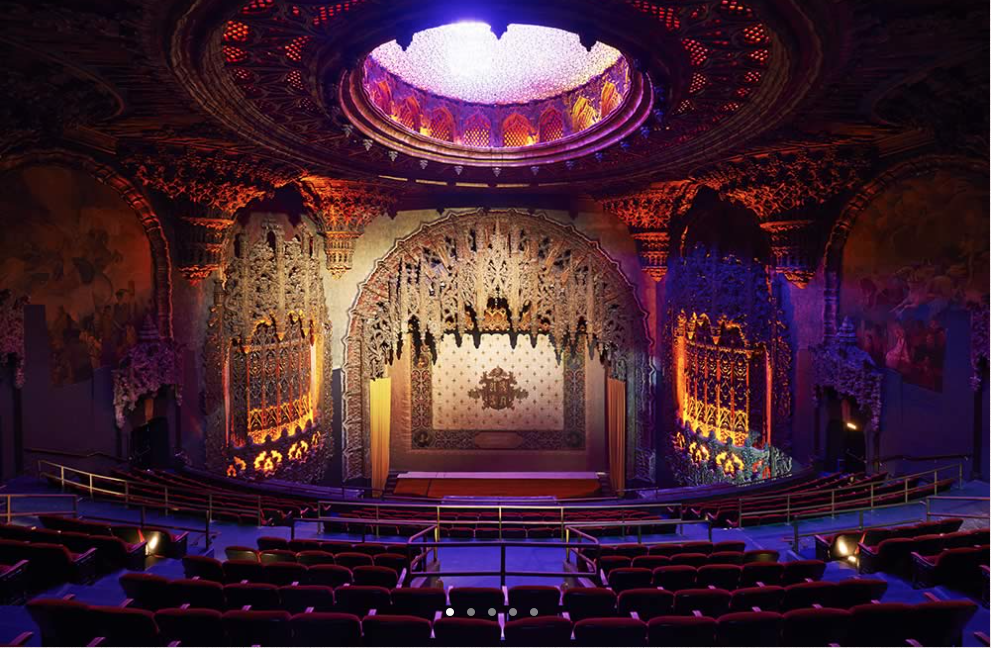 (above photo courtesy of Ace Hotel)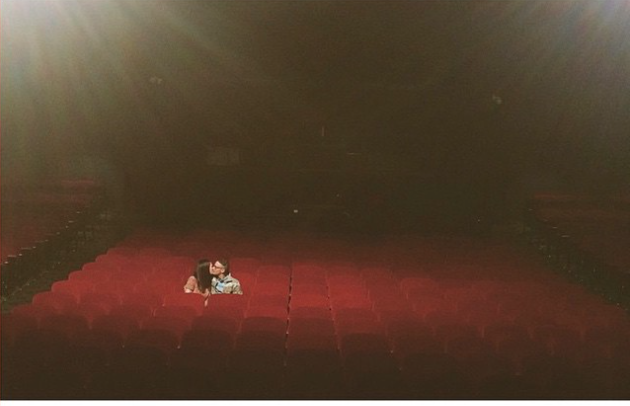 (above photo captured by friend and photographer, Alicia Chandler right after the proposal)
In conclusion The Ace Hotel will forever be a very special place to me. I will forever hold a special place in my heart for this place. So many memories made there.
If you happen to live close enough / or are ever in town please be sure to stop by!!
XOXO,
Christie Gee-Kellems