'The Christie Gee Podcast' is now streaming!! I am excited to share it with y'all!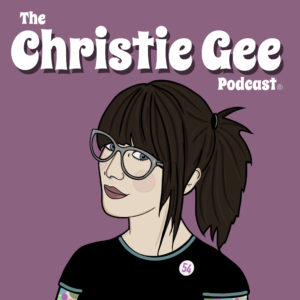 Ep. 01-Teenage Politics & The Origin Story Of Christie Gee
Ep. 02- The One After The Emmys
Ep. 03- (e)motion Sickness
Ep. 04- My Chat With Ethan Luck of Relient K, Supertones, Kings Of Leon, Etc.
Ep. 05- My Chat With Joe Ortega -Photographer
Ep. 06- My Chat With Jered Scott – Photographer
Ep. 07- My Chat With Jayme Foxx- Model & TV Host
Ep. 08- My Chat With Jay Bakker- Pastor, Author & Activist
Ep. 09- My Chat With Steve Choi Of RX Bandits
Ep. 10- My Chat With Mike & Josh of Huntingtons
Ep. 11- This Is Us. The Story Of Christie & Mark
Ep. 12- My Chat With Jameson Ketchum- Podcast Host & Author
Ep. 13- My Chat With Tom Wisniewski of MXPX
Ep. 14- Jay Bakker Returns!
Ep. 15- My Chat With Chris Conley Of Saves The Day
Ep. 16- My Chat With Matt Pryor of The Get Up Kids
Ep. 17- My Chat With Jeff The Girl of Five Iron Frenzy
Ep. 18- A Conversation About Equality With Lloyd Vines
Ep. 19- A Conversation About Equality With Keldine Hull & Orlando Deral
Ep. 20- Chris Conley Of Saves The Day Returns!
Ep. 21- My Chat With Kevin Devine

You can find it via:

Tell all your pals!