This week myself and my husband both celebrated our birthdays! They were on the 13th & 14th! I still remember our first date discovering that we had a birthday one day apart. It was both pretty neat and special! (He however is 2 years old than I) This past weekend we had a small get together with some close pals to celebrate our birthdays and I thought I would share a bit about it!
Well….let's start with Mark's ACTUAL birthday which was the 13th. I made him a yummy dinner of  enchiladas and then chocolate chip cookies with mint ice-cream. (all Vegan and Gluten Free) After that I gave him his gift which was some Kiehl's products that he lovvvvvves! I felt as if it the gift wasn't all that exciting, but if you know Mark at all you will know that he is a practical dude! So he was beyond grateful for his gifts and dinner. <3 He couldn't wait to show me one of my gifts so I was able to open one a day early….and MAN was it A W E S O M E.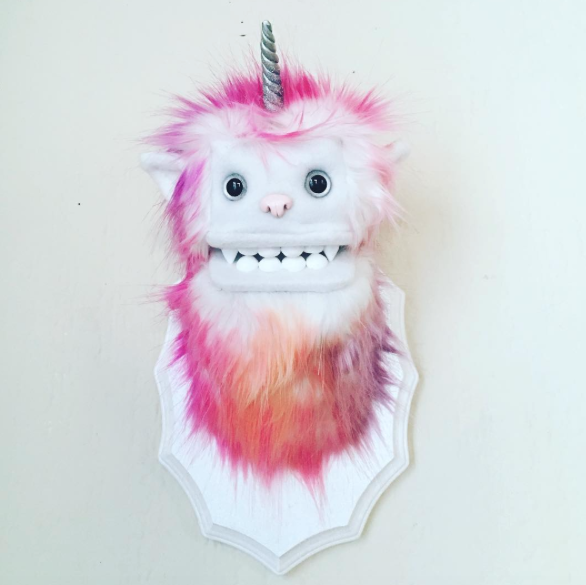 What you see here is a "taxidermy" Yeti made by Nana and Cody Williams. You can find their products at their ETSY Shop! I still haven't named my Yeti friend but I love him/her so much!!! It was purchased at Leanna Lin's Wonderland in Eagle Rock, California! Please check out this cute little store! Such cute stuff! If you can't make it to the physical store be sure and go to her website!
The next day was my birthday and Mark gifted me with some more fun presents! A mini cinema lightbox….which I have had my eye on for quite some time!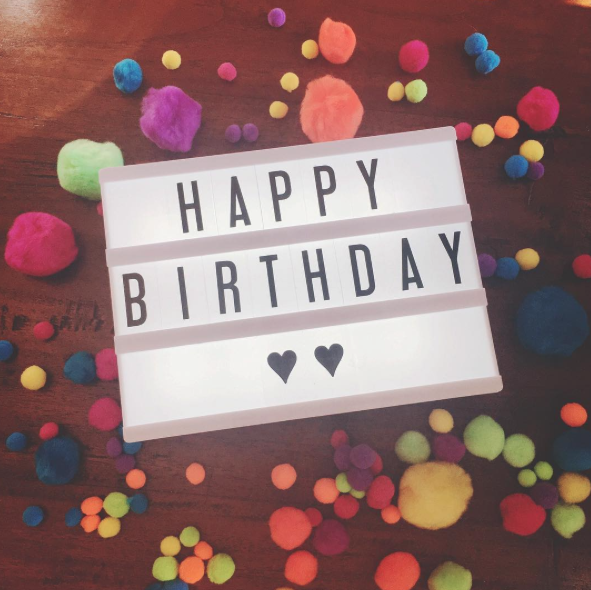 And also a cute collection of stickers and pins by Herbivore Clothing! **** Technically the "Burger-corn*** Sticker was purchased at Leanna Lin's Wonderland, yet the creator of that sticker, Supahcute, claimed I could consider it a Veggie Burger-Corn! ;)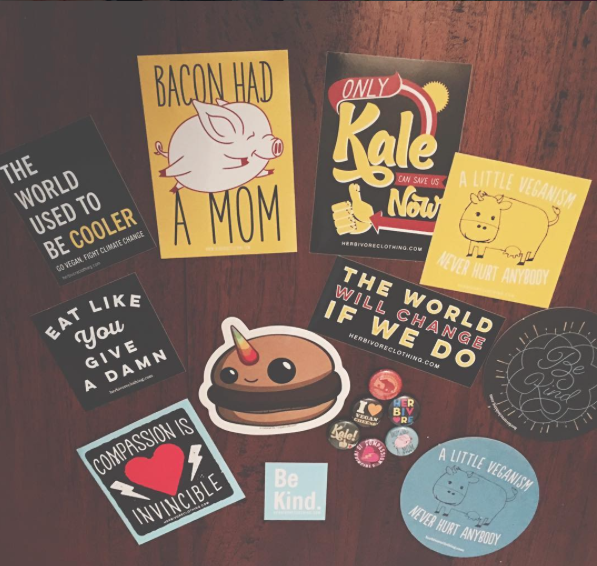 Saturday the 16th was the day of our little party! Mark had bought me some emoji balloons! We HAD to do a photoshoot. I mean…..DUH. So that morning we went outside and did a little iPhone photoshoot with the wind blowing! It made for quite a shoot! But here are my favorites!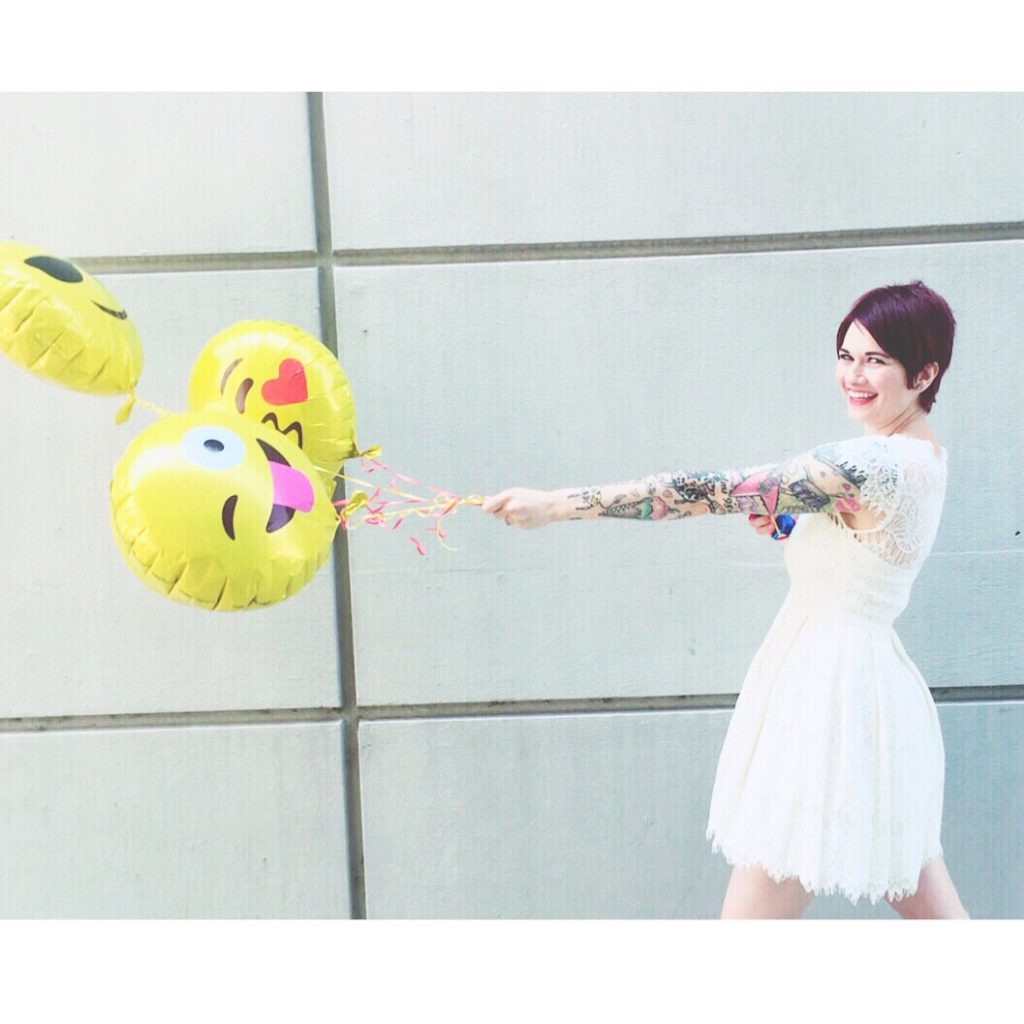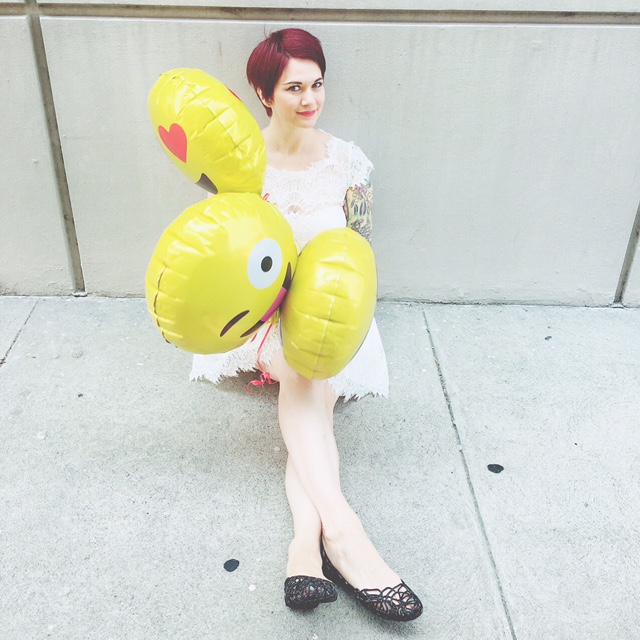 That dress was my birthday present from Mark last year and was also my "get away" dress for my wedding. I LOVE it, and it was a given that I was to wear it for our little shoot.
A few hours later a small group of our friends arrived! Mark made homemade hummus, Buffalo Cauliflower and Mushrooms, Guacamole and Cilantro Pepita Pesto with Grilled Asparagus! YUM! I put some fruits and candy on the table, but Mark's food was all the rage! (Again all food was gluten free and vegan!)
I, being a huge nerd had to take goofy birthday photos with my pals…so here is how those turned out!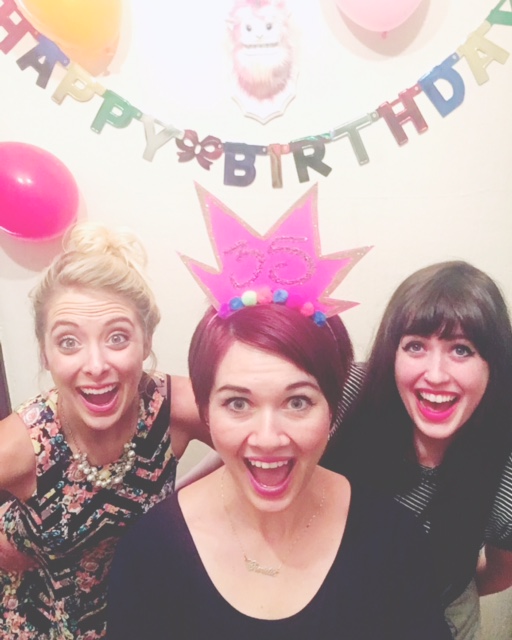 Photo by: Selfie Stick w/ Cortney and Jenna of A Whimsy Wonderland, a very cute blog y'all should really check out!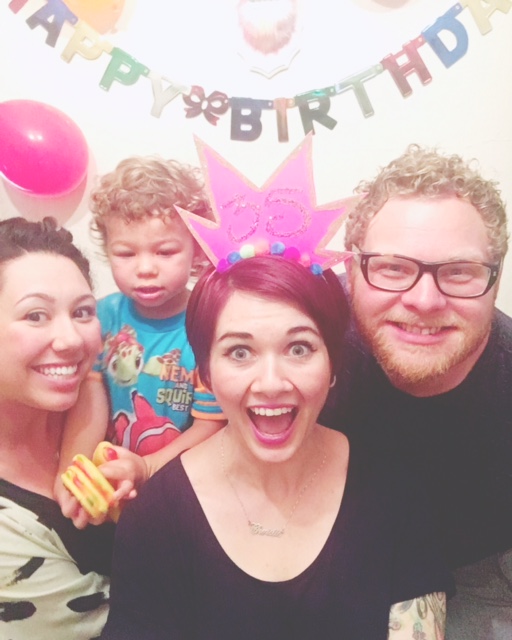 Photo by: Selfie Stick with The Brays. Katie, Teddy and Clayton! Cute Cute family! Love them!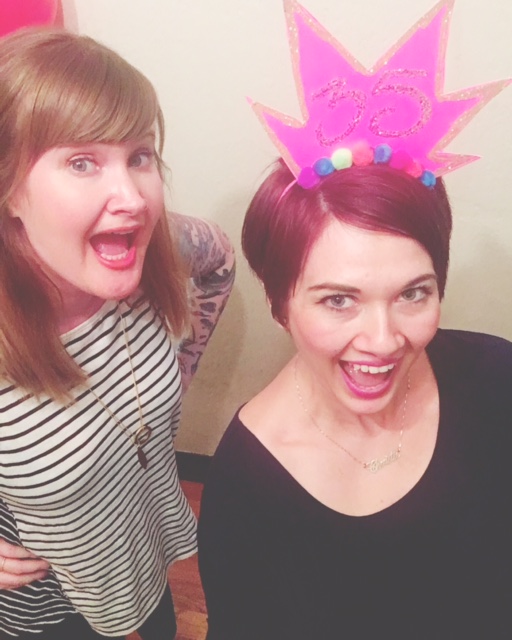 Photo by: Selfie Stick with my BFF, Lisa! She is my favorite land mermaid!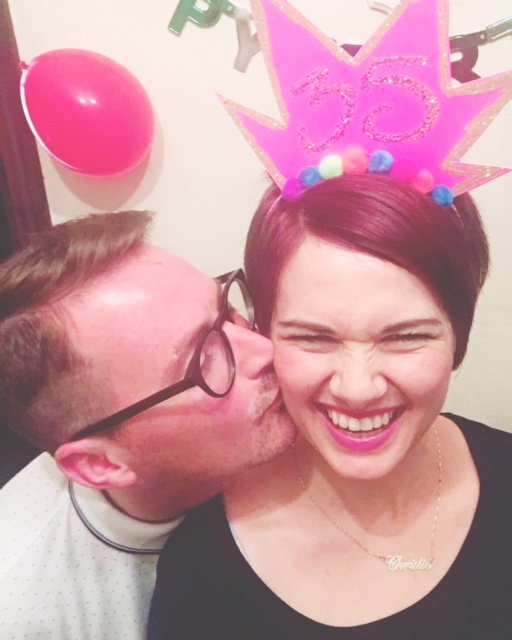 Photo by: Selfie Stick with my cutie husband, Mark! I love this fella to the moon and back and I am so very thankful for him! He and the good Lord above have been my rock this past year and I don't know where I would be with out this cute cricket!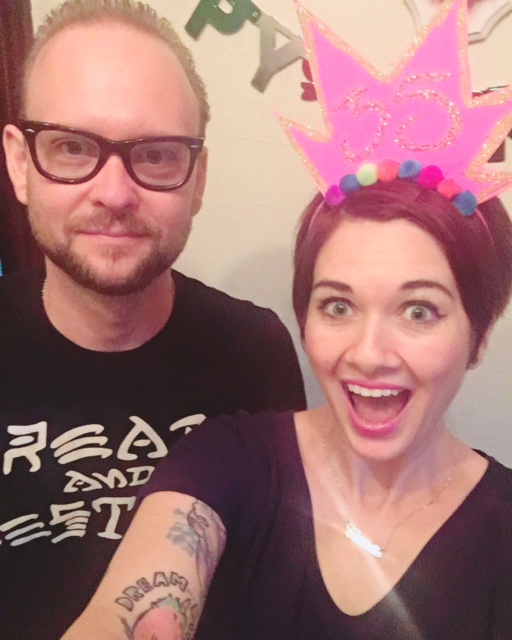 Photo by: Selfie Stick with JOSHUA!!! I have known Josh longer than everyone at this party! He is a rad rad guy. He makes these amazing wooden bowls which you will see in the next few photos and I will also be doing a feature blog about his work because it is beyond amazing. He is very talented! This birthday was a bittersweet because Josh is moving to Portland soon and we will miss him very much. However we are beyond happy that he is getting to move somewhere new and have fun adventures!
My pals bought me some fun little gifts too!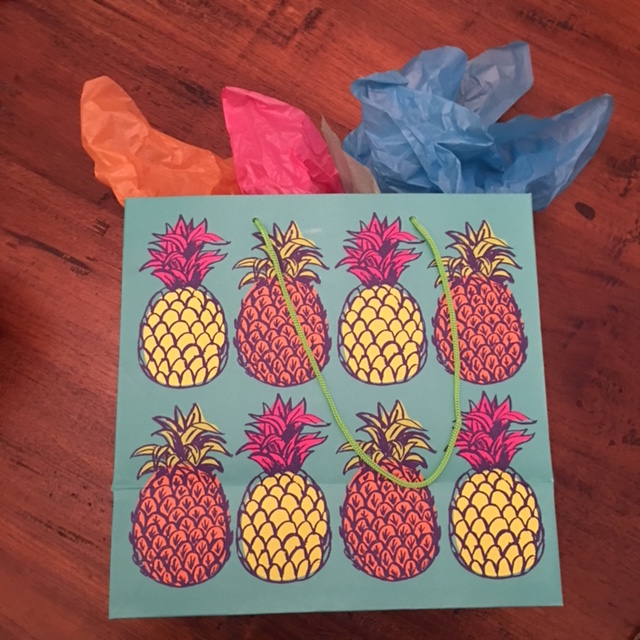 Included in this cute pineapple bag, Lisa brought me these super cute pens BANDO!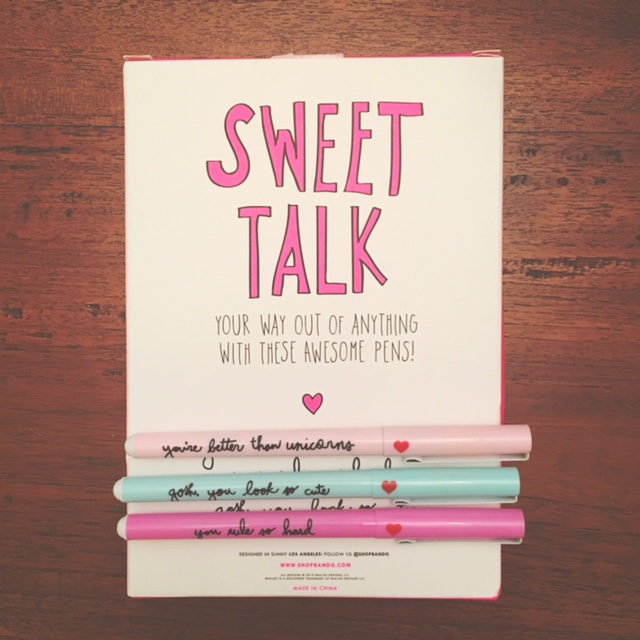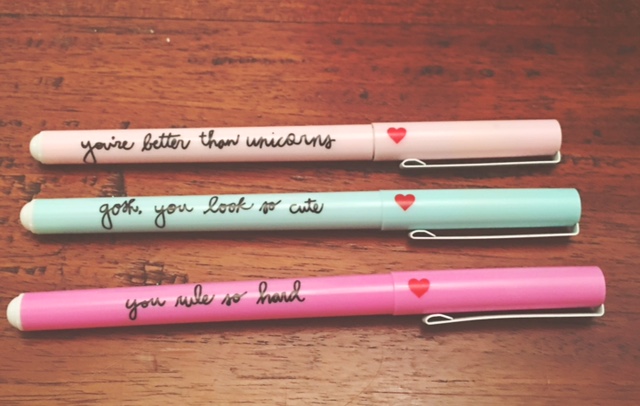 PLUS…a set of four unicorn glasses from Paper Source! I love them so much! She also brought a bottle of Mezcal for Mark! I am still on my 35 days of no drinking but I am so excited to try it when that time is up! ;)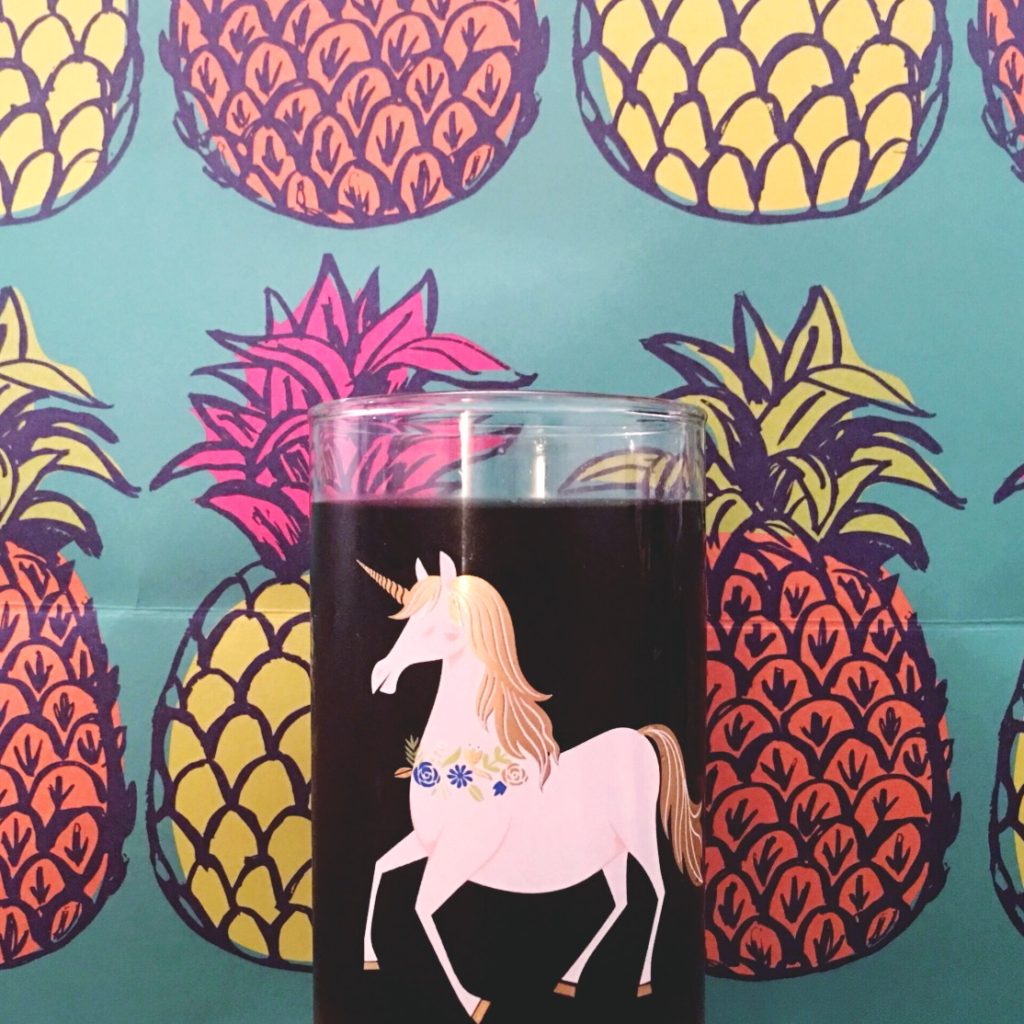 On that note, the Bray's brought us a bottle of red wine that everyone enjoyed! <3
They also gave me this adorable baby girl….I found her on my bed!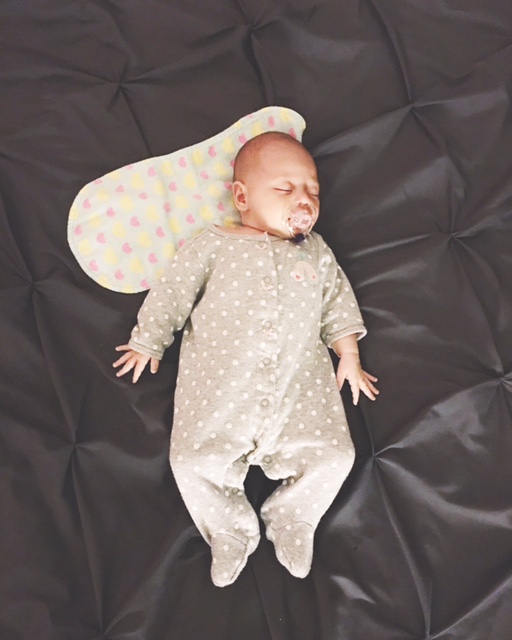 Just kidding of course…..Not about the cuteness…because she is beautiful…but about how they gave her to me as a gift. Darn it!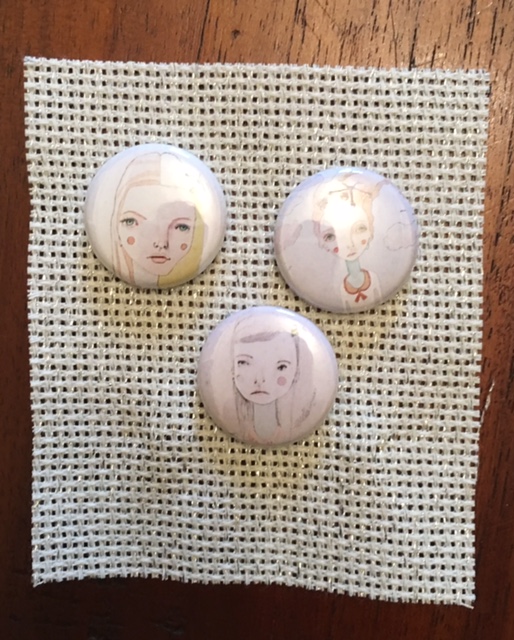 Jenna and Cortney gave me these cute little pins by Darcy Allen! LOVE THEM! You can see more of her cute stuff at her website!
I would also love to thank my dad for the birthday cash for Mark and I to have fun with and the sweet cards my mom mailed to us! I love you both so much and wish I could of hugged you both this birthday! That alone would of been amazing!
When it came to decorating….it looked as if I was planning a party for a 5-7 year old…not a 35-37 year old….but I had fun!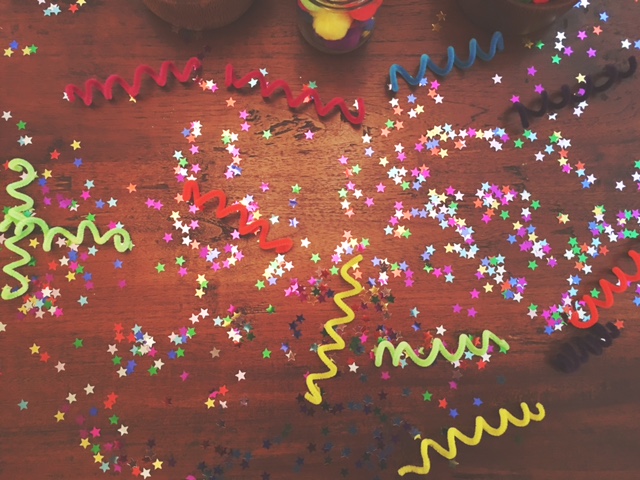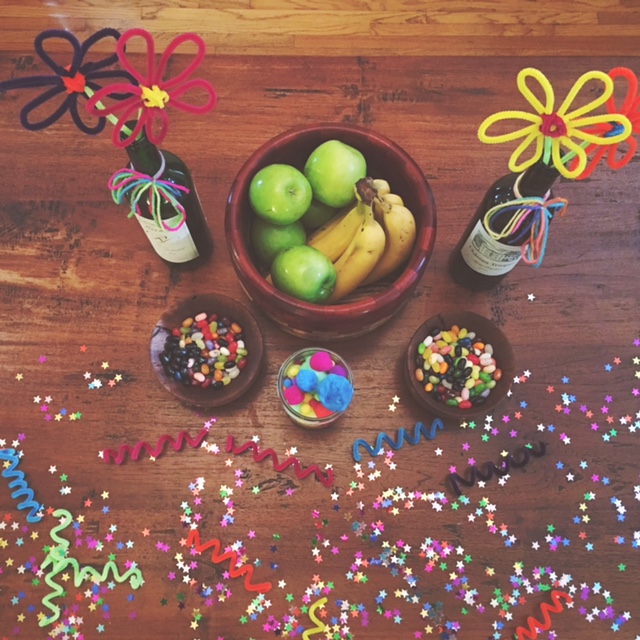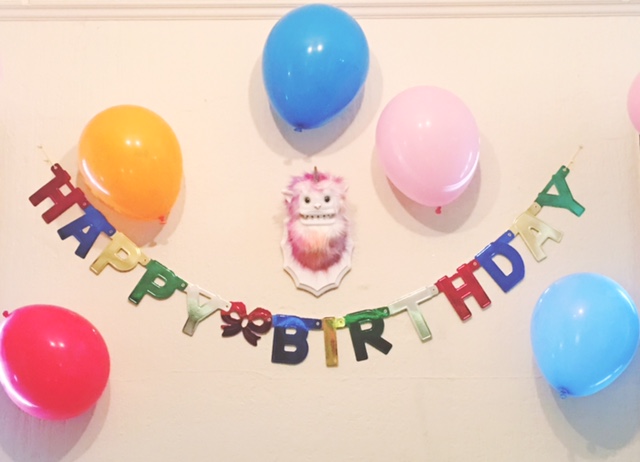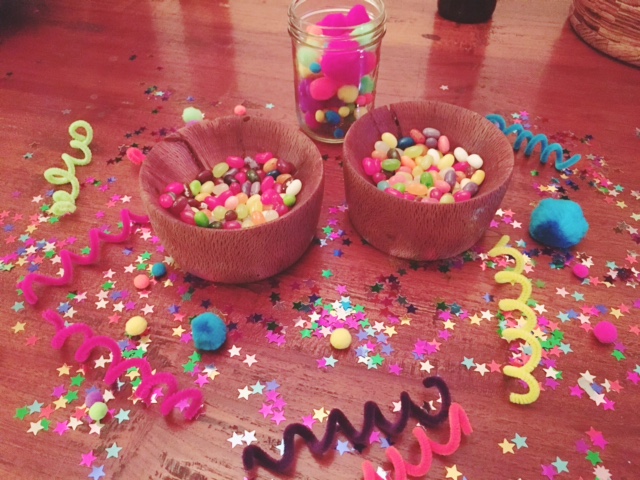 ***The wooden bowls are the ones Josh made by hand!!!***
The large on was a wedding gift to us, and the small ones were a birthday gift!
(Don't forget to stay tuned for a feature on them soon!)
It was fun night and Mark, Zooey Beans, The Yeti and myself are so thankful to those who were able to make it out!
Thank you so much to my readers as well!
Music provided by: FUN.
Lots of love and hugs!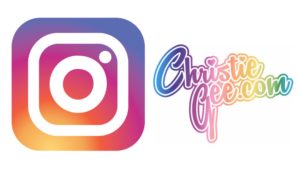 Follow me on Instagram for more fun and blog updates!
(Click above photo for link)
XOXO