No, this is not the beginning of a new chapter in my life; this is the beginning of a new book! That first book is already closed, ended, and tossed into the seas; this new book is newly opened, has just begun! Look, it is the first page! And it is a beautiful one!
If you don't know me in real life, you will know that I have spent a majority of my working career as a waitress. Some people may think that job would be a NIGHTMARE. However, I have always loved it. Growing up in  a small southern Texas town, my dad managed a kitchen and at one point opened his own little taco place. As a little girl I loved being in that environment. I did everything from washing dishes to serving tables. I remember when I was a little dish washer I had so much fun because I was  able to work with the cute high school boys. (granted I was in 8th grade at the time….helping out at my dad's place.  Don't worry…this wasn't some sort of child labor issue) It was during this time I found out about Nirvana, Bush, No Doubt, etc….because that is what those boys would listed to on the little boombox. I remember realizing what a babe Gavin Rossdale was and how Gwen Stefani was pure perfection. I was instantly jealous when they started dating in the 90's. Gavin was supposed to be with ME! Oh, my broken adolescent heart.
Fast forward to 2016, age 34 and happily married (NOT to Gavin….but that is totally ok…cause Mark is way better than any rockstar!) and  still a waitress. By this time I had lived in California for almost 10 years. Six of those years I was a server at a quaint little cafe in Long Beach. What I loved most about this place was how it had that small town feel, yet it was beach town! This past week, I left that job and I will explain that a little later. I want to tell you what I loved most about these past 6 years. (also those years I spend working in that cafe in Texas) It was the people and relationships I made with some wonderful folks. Sure…there will always be people in the world who won't make your day brighter. BUT…I met some amazingly fantastic people. I wanna really talk about my "regulars." My regular guest who came every singe week always without a doubt made my day!
Every single morning I would see Bob. Bob always came in for a cup of coffee and to read the paper. I used to pick on him a bit because something was "always wrong"….like the weather was too hot or too cold, during the holidays Christmas music was the WORST to him. He always wanted to sleep through December and wake up in January to avoid the holidays. We hung a little stocking by his table and I joked I was going to fill it up with coal. The thing about Bob was the he actually was a great morning chat to have every morning. We would talk about what not and it would just be us so we could just chat about whatever came to mind. When he finally got an iphone it was the best. He had so many questions. Bob, I know you are reading this….and I hope it's on your iphone and that you have learned more about that fancy gadget of yours by now. Thank you for all our morning chats and for the flowers you gave me on my last day. I appreciated it…and YOU.
I had two favorite groups of people come in on Tuesdays.
First was Jeff and Judy (and sometimes their daughter Lily)
Jeff and Judy are two of the sweetest folks. They would always share a Veggie Omelet and switch the toast option around each week! It was adorable. They always asked me about my day and how I was doing and how my marriage was going. They felt like family. Love them and their sweet daughter Lily. I want to especially thank you for encouraging me to take the risk to move on and pursue a new dream. It really meant a lot coming from you guys.
Second up on my Tuesday folks were my group of guys who were just so awesome! These guys….HANDMADE me cards for the holidays. So insanely sweet. They pretty much ordered the same thing every week, depending on how evil the waffle iron was being that week. One in particular loved using a blue coffee mug. We started to run short, so I would try my best to hunt one down for him. It made him happy. So cute. I want to thank these guys for always saying I was the FAVORITE waitress and making me feel golden. I always felt I was good at my job when they were around. Made my heart grow a little larger when they came around.
On Wednesday I was blessed to have yet another group of guys come in to see me. It is so adorable to see all these older men, just like my Tuesday group, get together every week on the same day to eat breakfast together and chat it up. I hope that my friend and I still are as close as these guy are when are that age. (The "old fart" in the photo above was in the Wednesday group!) He is AMAZING!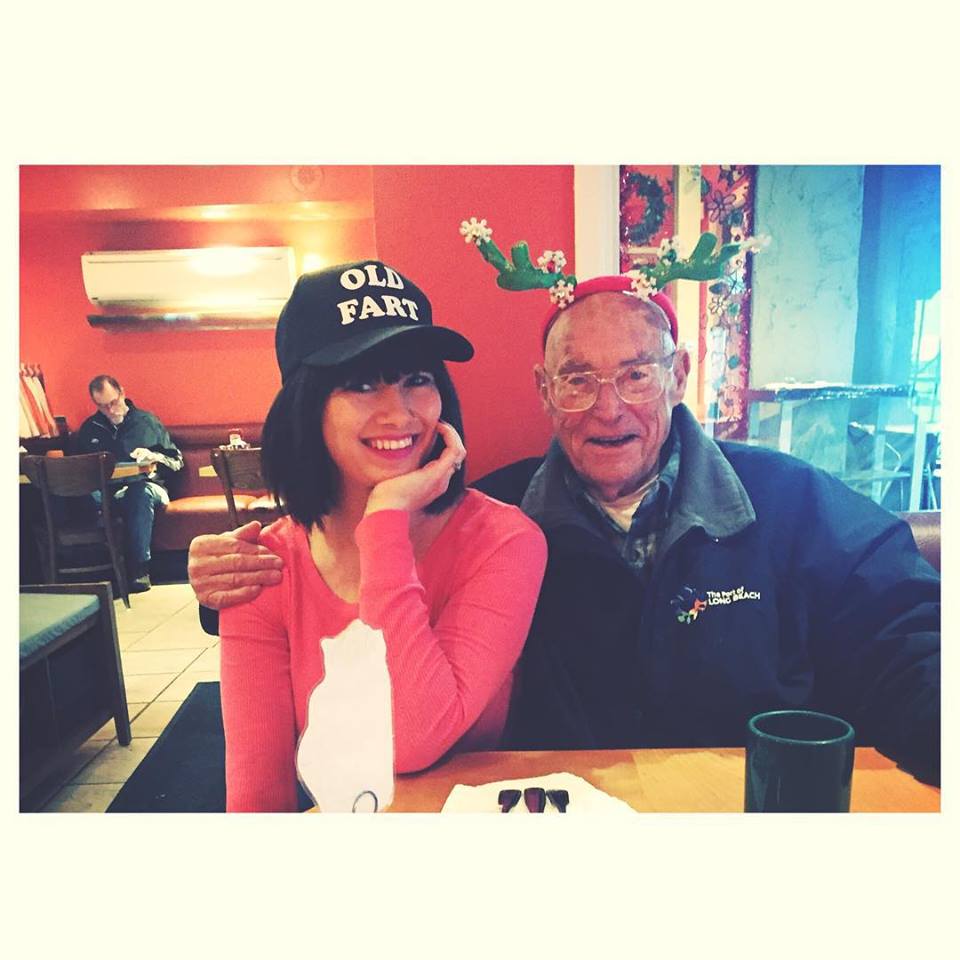 There was a time I worked Monday-Friday. On Fridays I would have yet another group of pals that would get together. This group ranged between 3 and like 15! The would always come in before the bus boy would so I would try so hard to remember what they had to drink. ( I am sooooo bad at rememebering what people drink. Food….I am great at….but for the life of me can't rememeber drinks.) I always felt like that character on Mad About You that Lisa Kudrow played that was pretty much a dinkus!! I DID however remember one lady who always got Earl Grey tea. I was to thankful for that moment in time when I felt like a winner for knowing that is what she wanted. This group was so great. When I got married they gave Mark and the sweetest card. I feel like I haven't seen them in ages but I hope they find this post and know that they were also very much appreciated.
One more group I must mention is a family that is so so sweet. Krisie B. and her family are so so so cute! I feel like I have watched her kids grow up before my eyes these past 6 years.  This family is one of my favorites because they were…first off…AMAZING, plus they were just so easy going and mellow. As a server, we love these types of folks. I hope that they felt that I really enjoyed seeing their sweet selves when they stopped by.
Let's move on to single/couples that were so much fun!
There was a man named Leonard, may he rest in peace, that was by far the biggest character!! He always dressed so dapper, with his fedora. The best thing about him was that he was full of surprising stories! We never really figured out how or where these stories came from, but they were some of the most out there, bazzar stories I had ever heard. It was the best. I want to share a couple with you. My ultimate favorite was when he asked me for more honey for his "bionic legs." Yes….you read that correctly. Apparently he lost both of his legs in Vietnam (although he was walking around on what was obviously HIS legs!) When I asked him about his "bionic legs" he said the government spent $1000's 0f dollars to transfer his GRANDMOTHER'S legs onto his body. That's what made them "bionic" and that the honey helped keep them oiled up so he could move around better. He would just sit and pour honey into a spoon and eat it up.
Another great story was that he was "The King Of America" and that he had a cattle farm. Usually when he was done eating, he would come to pay at the register and tell us he had to get back to the farm to sell some cattle for $1,000,000 a cow. However, sweet Leonard actually lived in an apartment just a few blocks from the cafe……and for sure was not the King Of America. It was sad when we found out he died of cancer. He never ever mentioned it to anyone. Maybe that's how all his stories came about….but he seemed to be happy when he passed, livin the life of the King Of  America, with $1,000,000 cows and bionic legs.
Another great was a man named George. It's pretty much as blind as a bat and would always recognize me by my "squeaky" voice. George was a ball boy for the BROOKLYN Dodgers. That was a long dang time ago!! He would come to eat and grab the paper….put as close to his face and asked me if was the sports page and if was that days paper. He then would proceed to find his usual spot on the patio and "sneak a cigarette" as if no one could see him. I always looked the other way because…well he was George and he was just so cute and sweet. If anyone ever complained about his smoking he never would hesitate to put it out. He would never argue. He would always order the same dish and would always  pay $7.50….even though the meal itself cost around $13.00 or so. When I first started working there that is what he paid, and they never ever changed the price for him, even when the price of food went up. That is something I loved about that job.
Then there was sweet sweet Ron. Ron would usually come in by himself, a few times with friends. I loved my little chats with Ron. Ron loved the way I made him A strawberry waffle! I loaded that dang waffle up with so much whipped cream and strawberries! Double butter and syrup. He never would not tell me that I made the best waffles ever. YAY! I was the waffle master! Great Success! He would always leave me the sweetest notes on the credit card receipts. Usually they were along the lines of  "You make me smile." And, Ron. that and YOU made me smile. You are a true treasure.
One of the most fun people I had a chance to work with was FLUFFY aka as Gabriel Iglesias! If you are not aware of him, you should be! He is by far one of the funniest comedians out there! I knew is favorite order by heart! He and his friends and family are so so sweet! He was nice enough to let me interview him! You can read that interview HERE if you like! On my last day at work he and his wife came to visit me! It happened to be Easter Sunday and they sat next to my husband and friends….so of course this happened….. ( that is my husband in the background! I love that silly nerd!)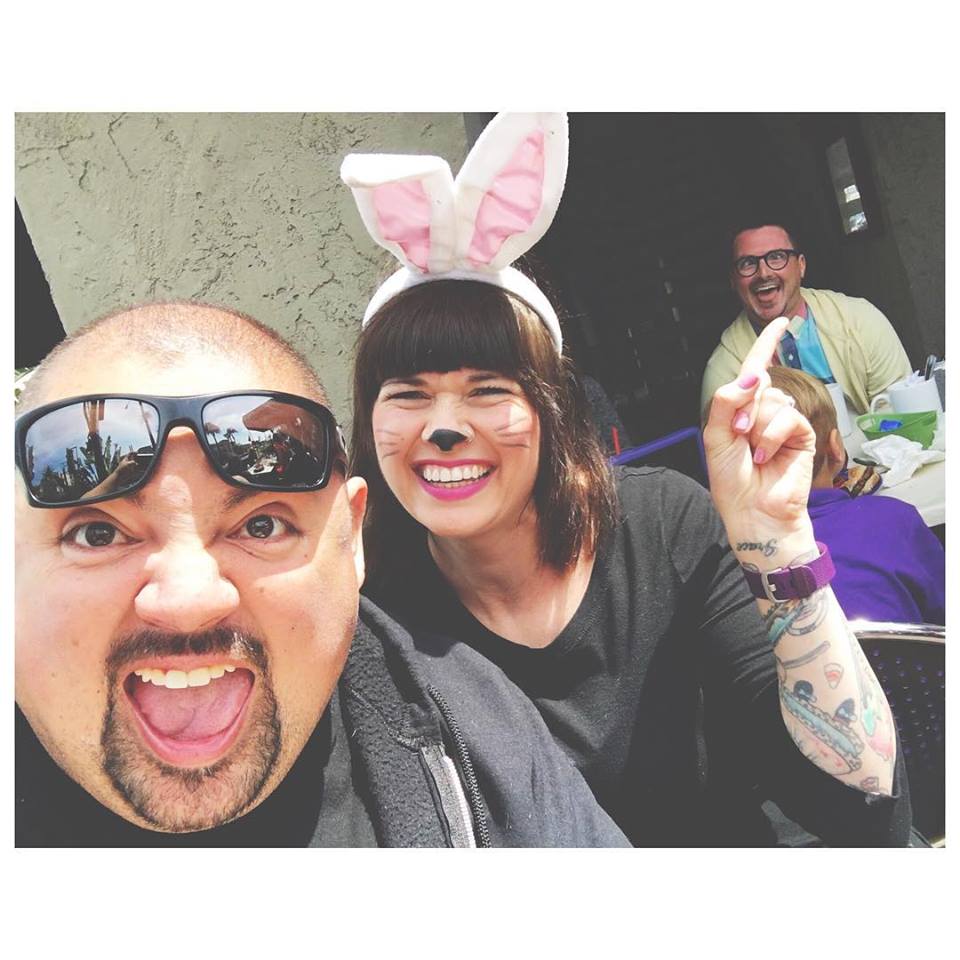 I interviewed and befriended a few other pals from meeting them at the café such as:
Steve Choi // RX Bandits
and
Jeff and Jake Turner of Say Anything and XO!
There were so many other great I had the joy to serve, and you know who you are. Those cute couples who always orders the same meals time after time. YOU know who you are…
-The poached eggs. One plate with fruit, the other w/home fries. One with dry rye. The other with buttered wheat.
-The pals who usually ordered the same omelet, with fruit, wheat toast…LOTS of butter. NO jam….yet LOTS of salsa.
-The adorable couple who always shared a breakfast sandwich with fruit. They loved that I always brought them extra napkins. It's the little things that people love.
The Santinelli family and their adorable little boy, Leo! They have a little girl on the way and they are by far one of the cutest families alive!
Steve, who would come on his lunch break and read his Bible. Such a sweet soul. He was also a dentist…so we would chat about teeth. HA! I am sure he lovvvvved that on his lunch break from doing dental work allllll day. But he was always so nice!
OH! I almost forgot about PETE! Pete was this super rad, tattooed, Buddhist. I could be having the most awful day and he would come in and make everyone's life better!
I also of course need to mention my fun co-workers! There have been quite a few of you over the years. To the OG folks (Amanda, Junior, Luis, Amador, Malena) thanks for always making work fun!
To Pam, Tammy and Ruth, I want to thank you guys for taking me in and creating a beginning of a six year awesome place to work. To the next generation of Eggs, have fun and enjoy that place!
Like I said….so many great people I got to know!
(I know I am leaving out a zillion great folks…..please forgive me)
Yet I knew, even though all these folks were awesome, it was time to move on from that world.
So, now I am venturing off into a whole new world at Sony Pictures. Currently I am moving around the lot where ever they may need me but hope to find my permanent  spot soon! It has been such an adventure here. I have met some amazing people and have been able to see things I never would of ever been able to see anywhere else.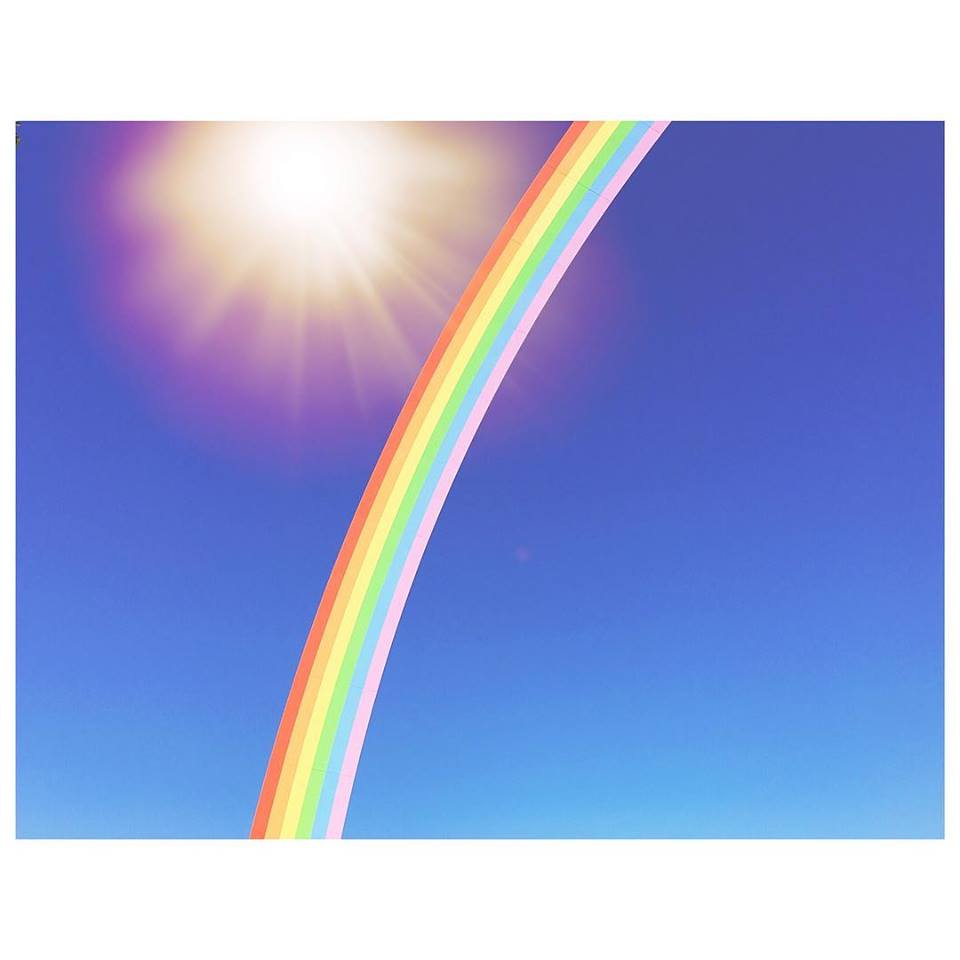 Sure….I miss the waitress life at times. It's all I knew. Yet the excitement over this next chapter trumps that!
Plus I was married here, so that adds even more radness to this life change!
Cheers to new adventures!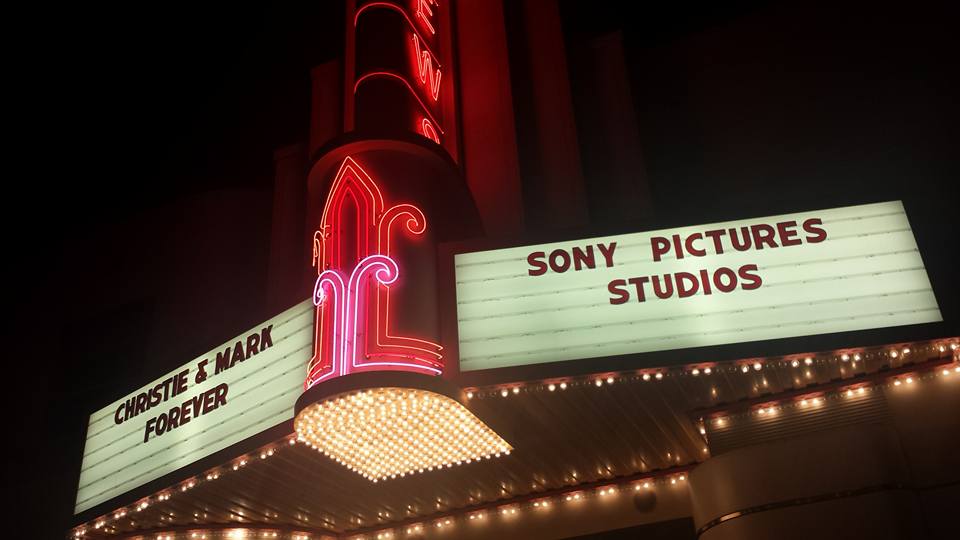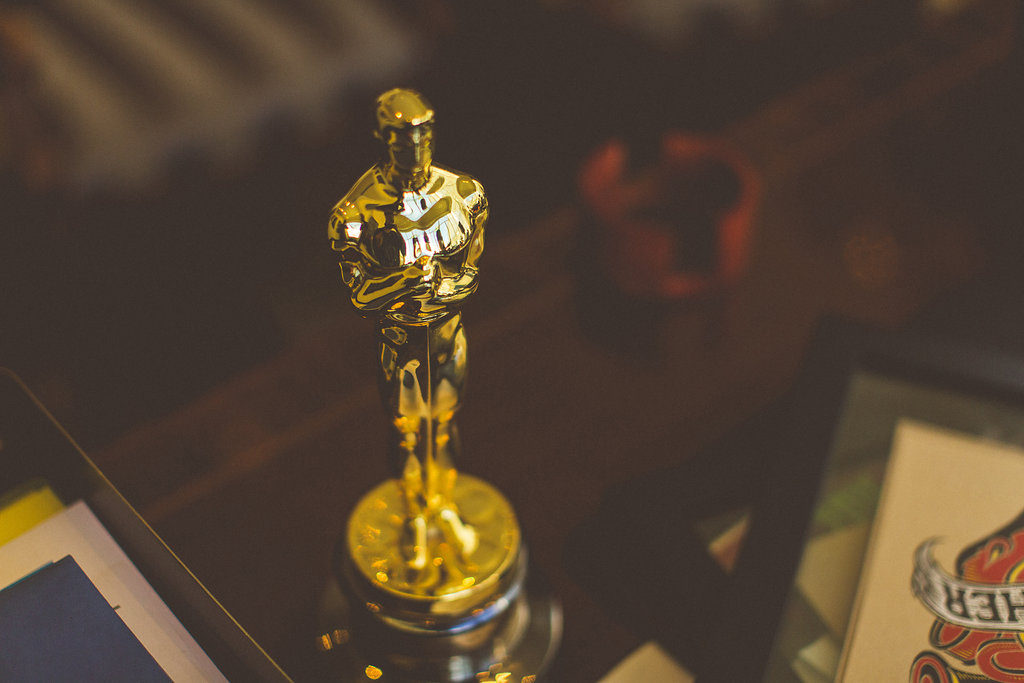 I encourage anyone out there who feels like a new change is needed to take that leap!
"Life is either a daring adventure or nothing at all." – Helen Keller 
XOXO,
Christie Gee-Kellems