I met Cambria Marie quite a few years ago when I moved to Los Angeles. I was instantly drawn to her sweet nature and her adorable style and the fact that she was so dang beautiful! It has been amazing to watch her grow into a woman who has continued to hold true to all those qualities I listed above. Cambria is by far one of the sweetest souls I have ever met and I am beyond thrilled to share this interview with her with you all. She is a model, animal rights advocate and a momma to-be! Well…technically she has always been an amazing momma to those furbabies! <3
Let's get right to the interview! Get ready to say "awwwww!" about a zillion times!
CG: You are such a stunning beautiful gal. I remember when I first met you all those years ago, I thought to myself.."wow! this pretty girl should be a model!" And here we are today and you are a model for Vision LA, Wilhelmina MIA+CHI and Scout SF. What is your favorite part of modeling?
CM: That's so incredibly sweet of you! My favorite part about modeling is that no day of work is ever the same. I love that even if I've worked for the same client before, we're shooting different clothing, or maybe now we're shooting inside rather than out, or maybe there's a different make up artist on set. Makes every day feel new and exciting.
CG:  You have been seen in commercial, tv shows and in print. Do you prefer one over the other? What makes each so different and fun?
CM: Well if I'm being honest, commercials pay the most haha so they are always priority for me over anything else. As for the job, I don't know that I could choose one over the other because all three are so different and fun. All three have provided different travel experiences, awesome wardrobe and I've worked with some really cool, talented people.
CG: Do you have a favorite project or designer that you have worked with?
CM:I have so many clients I love working for but some of my most fond memories were when I worked with Roxy/Quicksilver brands. I always enjoyed everyone I worked with and got to travel to some incredible places including the south of France and Taiwan!
CG: Other than the traveling and fun photoshoots, what has been your favorite perk of the modeling life?
CM:The relationships I've formed all over the states and even the world. I've met so many amazing people that I wouldn't have if I didn't have this awesome career.
CG: Do you have a dream modeling job?
CM:A dream modeling job would probably be based around the location of the job. I'd really love to book some work in Japan! I'm obsessed with the culture and people and all the delicious food! So that's definitely a goal of mine!
Let's bounce around a bit and talk about your love for adopting animals!
CG:When did you know you had a passion for animals that were in need of homes?
CM:From as long as I can remember, my parents taught me the importance of rescuing animals. We always had animals around when I was growing up and all of them came from shelters and rescues. We would volunteer at the Humane Society and I would see all those animals that needed homes and a chance at life. My parents are actually still very active in animal adoption- my mom has 3 dogs and 6 cats and my dad has 1 dog and 4 cats!
CG: If I have counted right you now have 6 adopted fur babies!! Can you tell us a little bit about how you adopted them?
CM:Yes! My babies! Okay from the beginning.. My first is Jazz, I adopted her from a local vet(Veterinary Care Center) that I overheard had a litter of kittens that needed homes. Jazz needed a buddy so when I took Jazz to the vet for her yearly physical I saw a new litter of kittens needing homes. A tiny Maine Coon kitten caught my eye and that's how Lola became our second addition. After my husband and I bought our house, of course it was time to add dogs. I went to a local rescue(Lucky Puppy) and I was going to say I picked out my Pomeranian mix Bowie, but really he picked me! After a while, we realized Bowie needed a friend so we went back to the same rescue and picked up our Chihuahua mix, Dixie! A few months later, I overheard a couple arguing about not being able to keep their dog and one of them saying they should just let her off the leash. I jumped out of my car and said, "I can take her!" They said, "Great." So I tossed her in my car and that's how our little dachshund/chihuahua mix, Mazzy, became our 3rd doggie! Last but not least, our little terrier mix, Gracie. For my birthday I really wanted another dog(I know I sound crazy town over here!) and when I came across the story of a terrified pup being overlooked at a kill shelter in Baldwin Park, I knew I had to go meet her. And well, that was that! Happy birthday to me! I love my crazy life with my six crazy animals!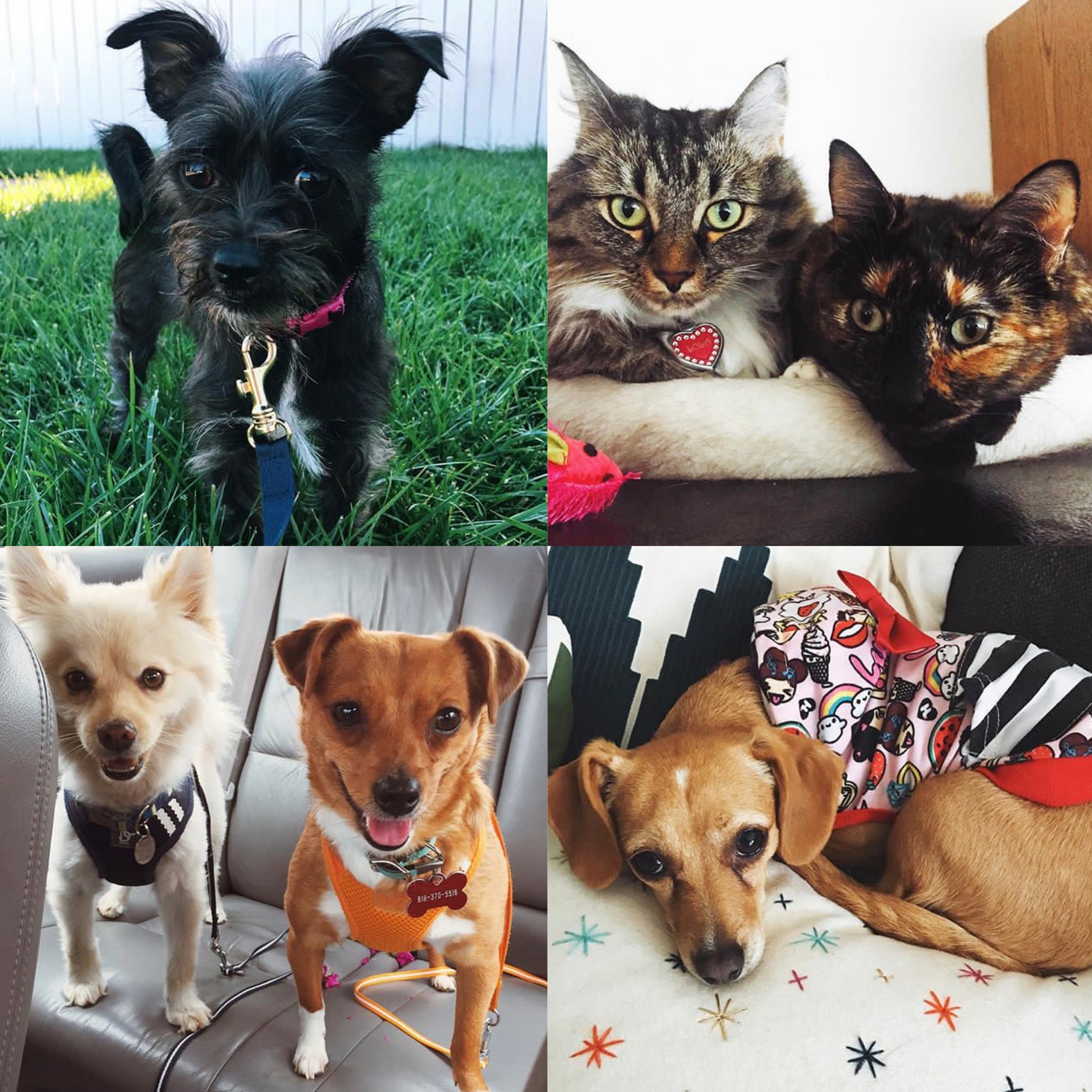 CG: What is your favorite moment so far with the fur babes?
CM:Ah! Too many to count! They all crack me up! It's truly constant entertainment at our house.
CG: What have your pets taught you about love and life?
CM:The simplest things make these guys happy and I think it's important for us to stop and enjoy the same. Sometimes it really is just the little things in life!
CG: Do you have a favorite pet charity that is near and dear to your heart?
CM:I don't have a specific pet charity to name because there are sooo many great ones out there that are full of adorable animals just waiting for their chance at happiness. I do love Petfinder.com! It is a great website that makes it very easy for someone to find the pet of their dreams. It's a very large directory where you can specify what kind of animal, breed, gender, and age you're looking for and it will give you the rescue group and location of the animal you are interested in!
CG: What, in your opinion, does the world need to know about adopting and not shopping for their next pet?
CM:I think it's so important for people to understand the misconceptions that come with rescuing over buying. People think that all rescues have behavioral issues. This isn't true at all. Some people think all rescues are mixed breeds. Also not true, there are many breed specific rescues that make it very easy to find a purebred if that's what someone desires. Another is that all rescues are older dogs. Nope, not true. Shelters/Rescues are constantly saving litters of puppies, kittens and other baby animals who are also looking for their forever homes. There are many many more misconceptions surrounding rescuing and I encourage people to do a little research and they'll see for themselves how rewarding and satisfying rescuing an animal really is. So satisfying that every day I feel all that love and appreciation they have towards me for taking them out of bad situations and giving them a fun loving home for the rest of lives!
We have talked a bit about fur babies….let's switch it over to human babies because you are expecting a baby of your own! Congratulations! I already know that babe is going to have such a fun, loving and adventurous life!
CM:Aw, thank you so much! That means the world!!
CG:You have the cutest little baby bump! In this summer heat, how do you dress to keep comfy and cute?
CM:It's funny because people say, "Aw man, pregnant in the summer sounds brutal." But actually I love it! Dresses are so easy to throw on and stay comfortable throughout the day and night. Anytime I try to wear pants, even maternity, I feel like I'm suffocating. So yay dresses all day every day!
CG:What are you looking forward to the most about motherhood?
CM:I look most forward to all the experiences I get to share with him! I'm so excited to start this new chapter of my life with my lil guy.
CG: What have you discovered that you love most about being pregnant?
CM:I love that strong connection I already feel with him. My heart bursts with love every time I feel one of his little movements. I love him so much already!!
CG: What are your biggest hopes and dreams for your babies life?
CM:I want my baby to live the happiest most fulfilling life possible. I want to show him what a blessing it is to live on this earth and teach him to be the best person he can possibly be.
CG: What advice do you have for new / expecting / "thinking about being'" mommas out there?
CM:I think it's important to put a lot of thought into the decision. My husband and I talked about kids very soon after we started dating and how excited we were to become parents one day. Over the last 6 years we've had so many parenting conversations and shared excitement of what life would be like with a child. The day finally came that we felt ready to take this leap and we were very fortunate that it didn't take long! And now we're expecting our baby boy in December 2017!
As for expecting mothers, enjoy it! Try not to let the stress and worries take over. I was such a worrywart in the beginning of my pregnancy and I learned that stress was pointless and couldn't have been helping anything. This is such a beautiful process and I feel like it's flying by so I'm making sure to live in the moment and take it all in.
CG:When it comes to MODELING, ANIMAL ADVOCACY AND MOTHERHOOD what have learned about yourself?
CM:Well for one, I truly believe I can accomplish all these things at the same time. And it feels good to have so many things I love and that I'm passionate about. Life is so short and we can't waste any of this precious time. So I make sure to only let in the things and people that are going to fulfill me the way I want to be. And because of that, I'm loving life!
I want to say a special thank you to Cambria for this adorable and inspiring interview! I am so excited to see what the future holds for her and her sweet family. <3 
Thank you also to my readers! If you are new you can find links in the menu bar to follow me on Facebook, Twitter and Instagram! Thank you for your support! <3 <3 
XOXO,
Christie Gee-Kellems
(all photos shown courtesy of CottonOn and Cambria Marie)
IF YOU LIKE WHAT YOU HAVE  SEEN/READ HERE I WOULD LOVE FOR YOU TO SHARE THIS BLOG WITH YOUR PALS! SAVE THE PHOTO BELOW/ SHARE TO FACEBOOK & INSTAGRAM.
THANK YOU SO VERY MUCH FOR YOUR SUPPORT. IT MEANS THE WORLD TO ME. XOXO