Today my grandma will be laid to rest after 86 years of life on earth. She was given her angel wings on January 9th of this year.
 I wish I could be there to gather with my family in Texas to celebrate the life of my grandmother also known as Nanny to her grand babies and GREAT grand babies. Although we will very much miss her, I 1,000% KNOW that she is in the presence of a loving gracious God. I wanted to share some of my favorite memories of her and I hope that she enjoys these memories as she looks down on us now.
**These are just the tip of the iceberg of the amazing stories I have of her…**
When I was younger I managed to always leave some sort of something at her house when I would go over to play. When I would leave she would find these tiny items and place them each individually into plastic baggies. You have to remember that these were the days before Ziploc technology so each little plastic baggie would get a twisty tie. So the next time I would go over to visit I would have plenty of baggies to bring home with me! As a little girl I always thought it was fun to collect them!
Another fun memory of her was helping her clean house. (Specifically mopping the floor) Sure, most kids would find this not at all too exciting….but Nanny used the TOILET as part of the chore. She would first super clean the toilet and THEN she would pour Pine-sol into the toilet then use that as her mop bucket! Pretty genius!  When we were done mopping  all we had to do was flush the toilet and all the chores were complete! No messy mop bucket to worry about. Loved it.
I also always loved our long walks with Rascal, the dog she and Papa had when we were kids. My brother Jeff and I  would take a stroll to the courthouse and then just sit on the wall and watch cars go by while Rascal took a break and rolled around in the grass. I loved those moments with them so very much!
This sounds so funny but I always think of her when I see a plumb. This is because when I was a kid I managed to get a huge gash on my forehead due to me being a dummy with a skateboard. Before I left for the hospital she gave me a plumb. I held that thing then entire ride to the doctor and during the whole procedure of me getting the many stitches in my head. Some kids hold on to teddy bears. I held a piece of fruit my Nanny gave me.
When I imagine Nanny up in heaven I see her and Papa together walking Rascal and all my fur babies that gone on to heaven before us. I picture her with a brand new perm in her hair laughing and saying, "OH, DEAR!" to all the wonderful things she finds fun and new up there. I can imagine her taking glorious naps in lazy boy chairs followed by endless chicken taco dinners. After dinner she and Papa sit and relax while enjoying all the episodes of the soap operas she collected on VHS here on earth. I can also see her with her old school VHS recorder taping everything she sees so she can show it to us one day!
She was by far one of the worlds sweetest humans and she will very much be missed. I have peace in my heart that she is in heaven having the time of her life right now. Let us always remember her in her greatest moments and treasure those memories. I believe I acquired some of my quirkiness from her and I love that so much.
Cheers to the memories, the laughs, the very first pair of tap shoes she bought for me, the MANY dance recitals and talent shows she attended, the endless Campbell's soup labels she collected for me so I could win the award for the most labels in all the school, the Reebok's I always wanted because all the cool kids had them, the sleepovers filled with yummy snacks and so many Disney movies I can't even count and to the endless love she gave my brother, my cousins and my family.  She was a class act and if I am half the woman was then I will consider myself blessed.
I was blessed to be able to visit her in Texas the week she passed. She was asleep for most of the days, however one day she woke up and smiled at me. It was great to see. I am so happy I was able to capture this moment with her….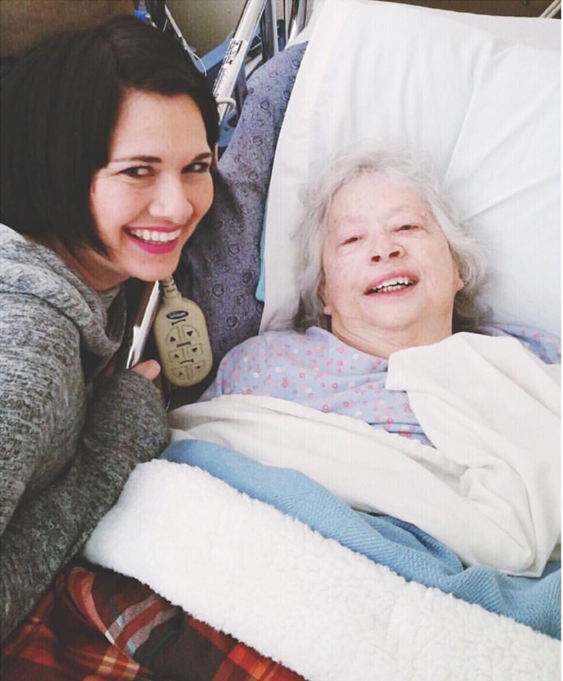 I was told when she passed on to heaven that it was one of the most beautiful moments that anyone could have ever witnessed. She began to smile with only a smile that someone who felt complete peace would smile. She began to look up and she seemed in awe of what she saw. She raised her hands and just kept on smilin' away as if she was seeing something majestic. Soon after that she took her last breath. My family that was in the room with her said the were unable to explained  the feelings of peace that were in that room. She had gone home and although it was sad, there was such a peaceful presence. It made me so happy for her to experience this. I only hope to experience something like that when it is my time to leave this world.
I know Heaven is a beautiful place because she is there. We will see you on the other side of the stars, Nanny. I love you dearly. This is not goodbye, it's we will see you again one day.
Here are some other photos that I love of her.
(I hope to add more as family members send me some more)
The first is of her, my Aunt Kathy, her granddaughter Adrienne, and her great grand baby Angie!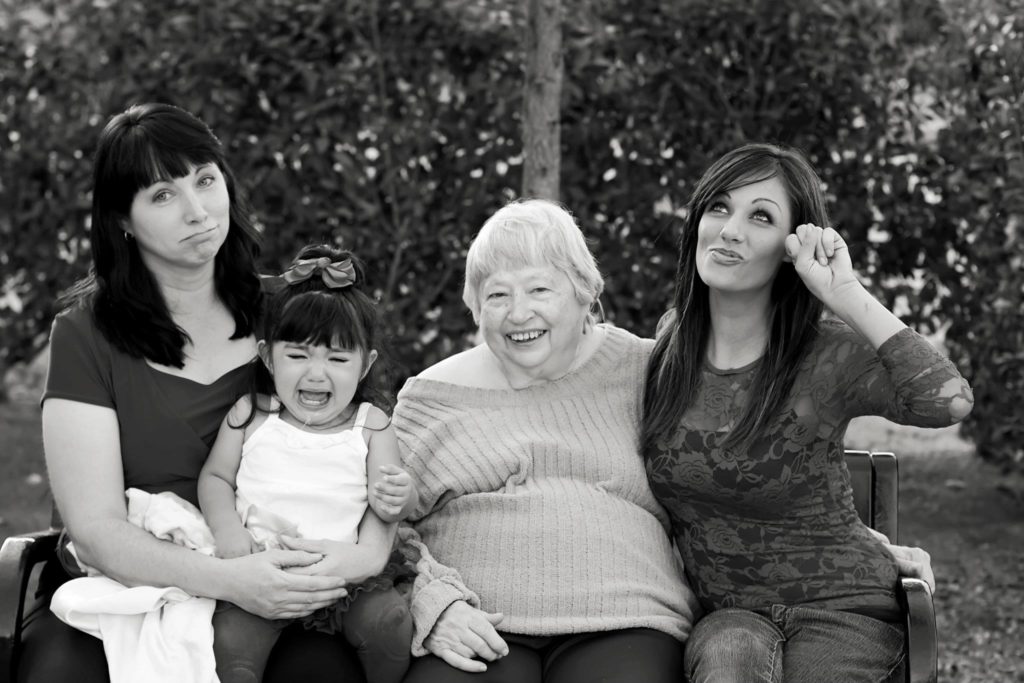 I believe my Aunt Kathy took this one of her playing checkers. I loved her smile.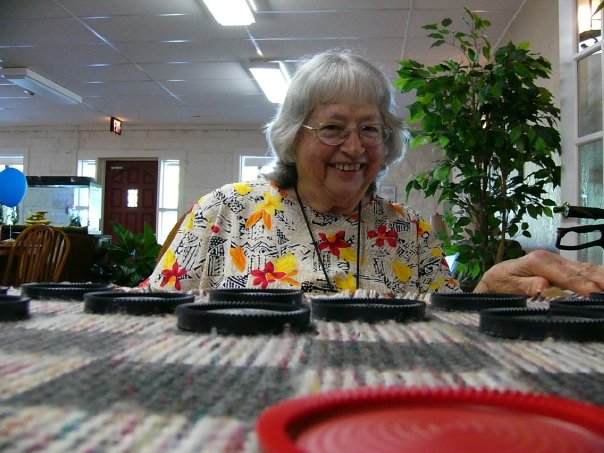 This one I took of her a few years back with a bow on her head. She was always down for fun times!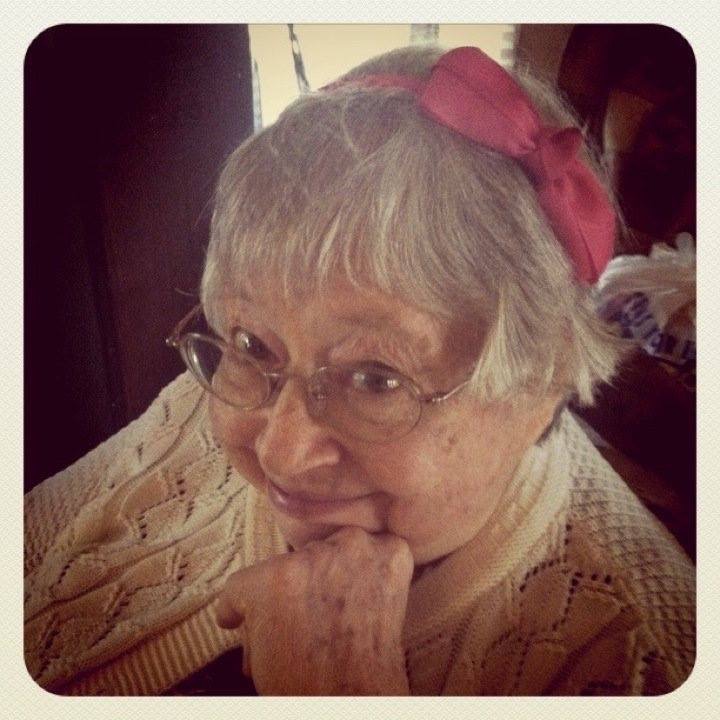 I count myself lucky to have known such a lovely woman of God. He blessed me with such an amazing grandmother. For that I am so very thankful.
Rest in peace, sweet soul.
Love,
Christie