I first met Jenna on Instagram. She was about the cutest dang thing I had seen in such a long time. I realized we had mutual friends and we decided to meet up for lunch one day. There is over ten year age gap between the two of us. I am an old lady, yet I felt as if she was a mini me. We both (at the time) were rocking bangs and longer hair. Since then I have fried mine off and its now a pixie, but in my heart I'm still that girl with the thick bangs. HA! Ok that is off the subject. Jenna and I enjoyed our yummy lunch and she mentioned that she and a friend were starting a blog! Since then she and her friend Cortney have done amazing things with A Whimsy Wonderland! I am excited to share my interview with them with you!
ENJOY!
Let's start with the facts that both of you are not from Los Angeles….or even the same state. Jenna from Oklahoma and Cortney from Tennessee! How did you guys become pals and decide to start a blog together?
Yes! Neither of us are L.A. natives, although it feels just as much like home to both of us as our hometowns do! We actually met through our job at BHLDN in Beverly Hills! Jenna actually trained me (Cortney), and we really weren't sure we liked each other at first. Haha! But then a couple of weeks later, Jenna offered me a donut (major win) and we went out for margaritas and that was it. We had that "I think you're my best friend" moment pretty early on! We were fast friends, for sure. As far as starting a blog goes, we were hiking together one day, and were just talking about how much we had both dreamed of doing it for such a long time, but also never really considered it a "real" possibility, if that makes sense. But the more we talked about it, the more real and doable it sounded! And we just looked at each other and were like, "Alright, let's do it!"
Now that you are both in L.A. what are your favorite go to spots for:
– Shopping- Honestly, neither of us are huge shoppers. We try to shop small business as much as possible, and a lot of that is online! Although we both love strolling through all the dreamy shops on Abbot Kinney BLVD in Venice! 
-Photo Ops- Any colored wall! The Pink Wall in Weho is obviously a favorite. We each keep a list on our phones of the walls we drive by on a daily basis so we can remember what streets they're on! Photo Ops are around every corner here in L.A.!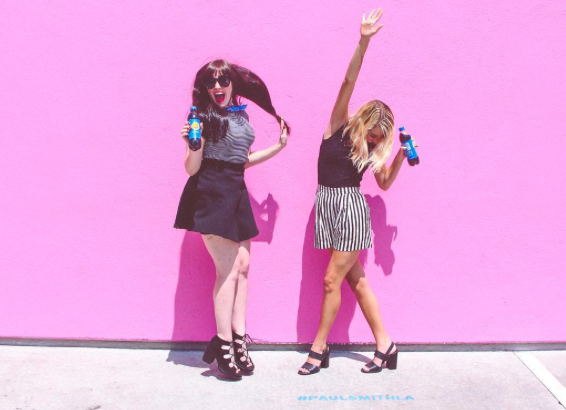 -Food and Drinks-Obviously, we love us some brunch! Some of our fave brunch spots are: Bottega Louie in DTLA, Aroma Coffee & Tea in Studio City, and Blu Jam Cafe in West Hollywood! As far as drinks and food other than brunch (because brunch is its own separate thing)- Perch in DTLA is one of the most beautiful places we've been so far and the drinks are fabulous! Library Bar is another favorite bar of ours…full of all the good vibes! And a little hidden gem we love a lot is The Pikey. We go there a lot for wine and french fries! ;)
How do you gals balance work life with blog life?
This is probably the toughest thing for us. We honestly don't know if we even have a real answer, because there are some weeks where we literally don't know how we got everything done. Double job life is hard, and have an all new level of crazy respect for everyone who does it! We both have a set day each week where we get together all day and work on the blog. And usually our breaks at our day jobs include catching up on emails, Instagram, or whatever else we haven't had time to do. It's a lot of work, but it's fun work. And we're able to rely a lot on each other! We trade off social media duties throughout the week to make sure we don't get burned out! 
When it comes to A Whimsy Wonderland, what are  your goals and dreams for your blog?
We both love blogging. Obviously, we'd love for our blog and social media channels to bring us our entire income, but I think we'd do it even if we'd never made a dime. It's an outlet for us. Stress relief. And we've met so many amazing people! But we want this to be our career. We want to travel, experience the world, try all the amazing food there is to try, and continue meeting these awesome boss babes all over the world! And we totally believe that the blog will allow us to eventually do that! 
What are your top 5 favorite blogs and or instagram accounts to follow?
This is such a hard question because we admire so many different people and accounts for different reasons!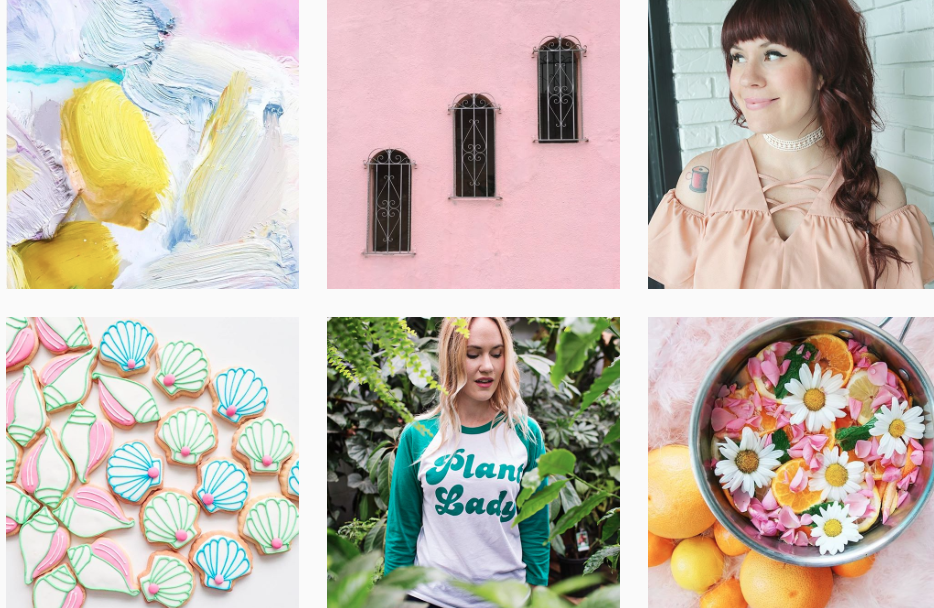 AND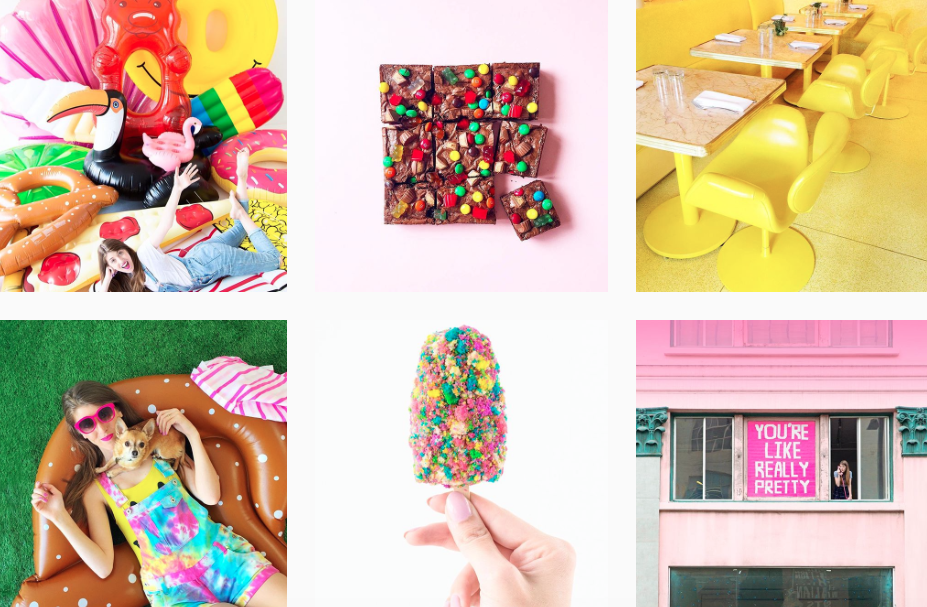 are probably the two "biggest" accounts (social media & blog) we love to follow. 
They're full of inspiration (blog wise and just for life in general). Also, The Dainty Squid offers a different twist on the "blog stereotype." Kayla is super edgy and inspiring! 
What would you say your favorite song is at this moment in time?
– Jenna- This is an impossible question Christie! Ugh. Okay. I'm gonna go with H.S.K.T. by Sylvan Esso. Must listen!! 
– Cortney- My all time jam is "Are You That Somebody" by Aaliyah ft. Timbaland. Like, forever. No shame. 
What is your favorite all time movie?
– Jenna- also impossible… I'm gonna pick 5 (sorry)- Matilda, Coraline, School of Rock, The Devil Wears Prada, and The Grand Budapest Hotel 
– Cortney- The Divine Secrets of the Ya-Ya Sisterhood. No question. 
Y'all have different styles. How would you describe how you differ and how you are the same when it comes to fashion?
We are honestly so different when it comes to clothes. We both love black and patterns. I honestly don't know if there's anything else that we're really "the same" on. Haha! But it works, I guess! Jenna loves dresses and skirts, Cortney loves shorts and jeans. Jenna loves lots of jewelry and bows and lipstick, and Cortney barely wears jewelry. We both love combat boots too. Does that count as a similarity? ;)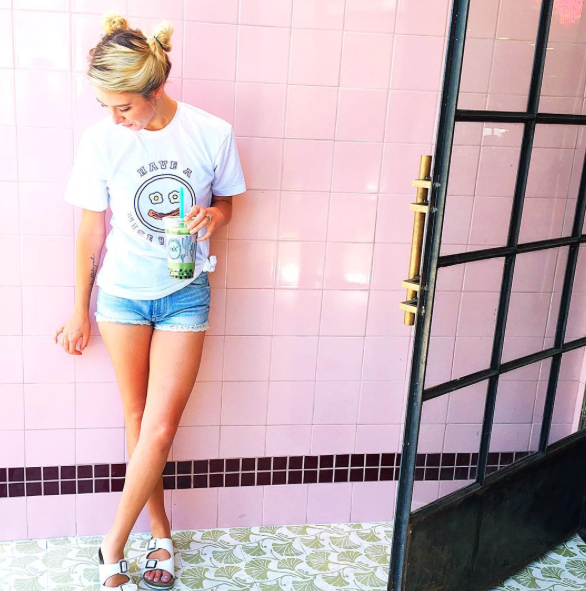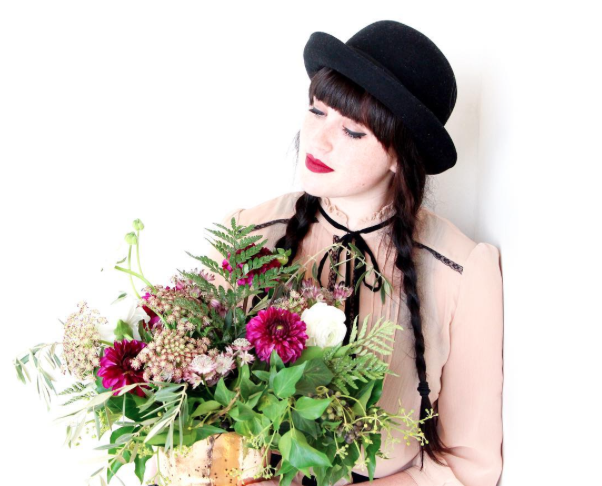 What advice would you give gals out there in the blog world, who want to make a lifestyle out of it?
Don't second guess it! Anything can be a legitimate business if you treat it like one! We each spent a lot of time before we met each other not doing what we really wanted because we didn't think it could be a real career. I mean, it's work, and you have to realize that going into it. It's not all fun, and it's definitely a lot harder than we thought it would be. But we've only been doing this for 6 months, and it's also insanely rewarding and exciting. If it's a hobby, treat it like a hobby. If you want it to be your full time job, you have to put in those 40 hours a week in order to reap the benefits. 
What is next for A Whimsy Wonderland? 
That's a very good question. Ha! Ideally, we'd love to be dedicating more time to focus solely on the blog and give it the attention we really want to! That's the next thing we're gosling ourselves with. Also, we're working on some fun collaborations coming up in the next few months that we're really excited about! So keep your eye out for those. ;)
Thank you so much, gals for taking time to do this cute little interview for me! I am beyond excited to see what the future holds for y'all! <3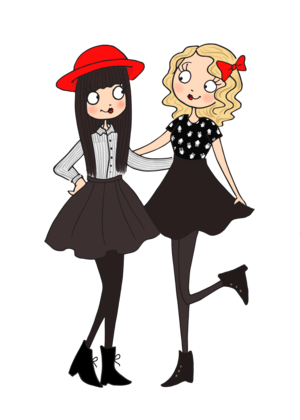 (adorable drawing by Amy Rose)
Everyone please go check out their Blog & Instagram!!
You won't regret the cuteness that is headed your way! <3
 If you dare, you can can also follow me on Instagram as well!
(click photo below)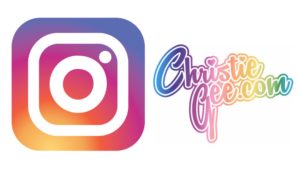 Music by: Eisley
XOXO, Christie Gee- Kellems