Wow. This week I turn THIRTY SIX years old. I am at the age my mom was when I graduated high school. When I was little I always loved my birthday. It was something I always looked forward to. Over the last few years it has been one of the hardest days of the year for me. I kind of….no…I pretty much dread it. I don't mean that in a dark way…it's just not fun when I think about how I honestly feel so far behind in life. This doesn't make sense and DOES make sense on so many levels. Currently I am sitting at a coffee shop, in Los Angeles, on a movie lot that I WORK at and I still have no idea what I want to be when I grow up. I once believed I wanted to own my own restaurant. I had these huge plans for it and it really excited me, but the real estate  and the number of cafes and restaurants I see fail in this city put a damper on that dream. I now am pursuing a dream that is more of a creative adventure. I hope to work in the animation field of the "industry." Being surrounded with creatives and artistic folks makes me pretty dang happy. Ok…So I have that part figured out…but what do I do with that. There are endless opportunities and that IS exciting.
When I think about how I feel behind in life I think that stems from the fact that I grew up in a region of the country where having babies at a pretty young age was the norm. You marry your high school sweetheart, have some kiddos and live happily ever after. That is great for some people, but it's not ME. I totally want that family life of my own of course and I am sure it is in the near future. I at the same time want to find what I was meant to do in this universe.
I get pretty dang inspired when I hear about people who figured it all out later in life….when I say "later" I mean after 30. (omg…is that later in life all of a sudden? nahhhhh….. It can't be)
Anyhow…here is my list of some of my favorite finds of people who found their "calling" after 30.
Vera Wang– Vera Wang started out as a figure skater who failed to make it to US Olympic figure-skating team. She later became an editor at Vogue but was passed over for the editor-in-chief position. So, she took it in her own hands and started designing wedding gowns at 40, and is now an incredibly famous and lucrative fashion designer. So take that, everyone. (Side note: She designed my wedding dress so I have a special place for her in my heart)
Julia Child– Julia moved to Paris with her husband in 1948. Julia was 36 at the time, and had never really tried decadent food such as oysters and sole meuniere (buttery fish – it's amazing) up until that point. She was fascinated by French cuisine and enrolled herself the famous Le Cordon Bleu to learn how to cook. By the time she was 50, she published Mastering the Art of French Cooking, a revolutionary book for Americans who wanted to learn how to cook French food.  Her show, The French Chef was wildly successful, as was Julia Child & Company and Dinner at Julia's.
Jon Hamm– Jon Hamm was bussing and waiting on tables in Hollywood until he was 29 years old! No one would hire him to play young roles because he looked too old and was too young to play old roles. Finally, he was cast in a television show called Providence and by the time he turned 30, he was on set of We Were Soldiers with Mel Gibson. But his huge breakout role was in 2007. At the age of 36, he beat 80 actors of the role of the smoking hot (literally) Don Draper in Mad Men.
Jenna Fischer– Jenna had some small roles here and there before The Office, but the NBC sitcom showcased what Jenna Fischer could do.  She was 31 when she started her role as Pam, and since then she's been in several indie movies where she is utterly adorable.
Amy Poehler– Amy started her career with the Upright Citizens Brigade in her late 20s, but didn't start working on SNL until she was 31. Amy stared in Parks and Recreation (which may be the most hilarious television show in the world) as the tenacious Leslie Knope.
Tina Fey– Tina Fey performed shows for The Second City up until 1997, and that same year she was hired as a writer for SNL. In 1999, she became the head writer, and in 2000 she started performing in sketches. From 2006 to 2013 (sad!), Tina (43) starred in 30 Rock. (She also had babies after her mid 30's which I love most about her!) 
J.K. Rowling Rowling was 32 when Harry Potter and the Sorcerer's Stone was published. Rowling apparently got by on napkins, which she used as paper to write the first few chapters of Harry Potter. Even if this isn't true, Rowling is now the 12th richest woman in the UK.
Hillary Clinton– THE BOSS BABE OF ALL BOSS BABES! This lady can do anything, although she really started her career as a public figurehead in 1977  when she co-founded the Arkansas Advocates for Children and Families and became the first female chair of the Legal Services Corporation in 1978. She was named the first female partner at Rose Law Firm in 1979, and was twice listed as one of the 100 most influential lawyers in America. She was 32 at this point.
These are just a few amazing people who have inspired. You can read more about them at:
(ps. I am dreaming of contributing to Hello Giggles in my future! Goals!)
If I could back into the past I would tell this little girl this….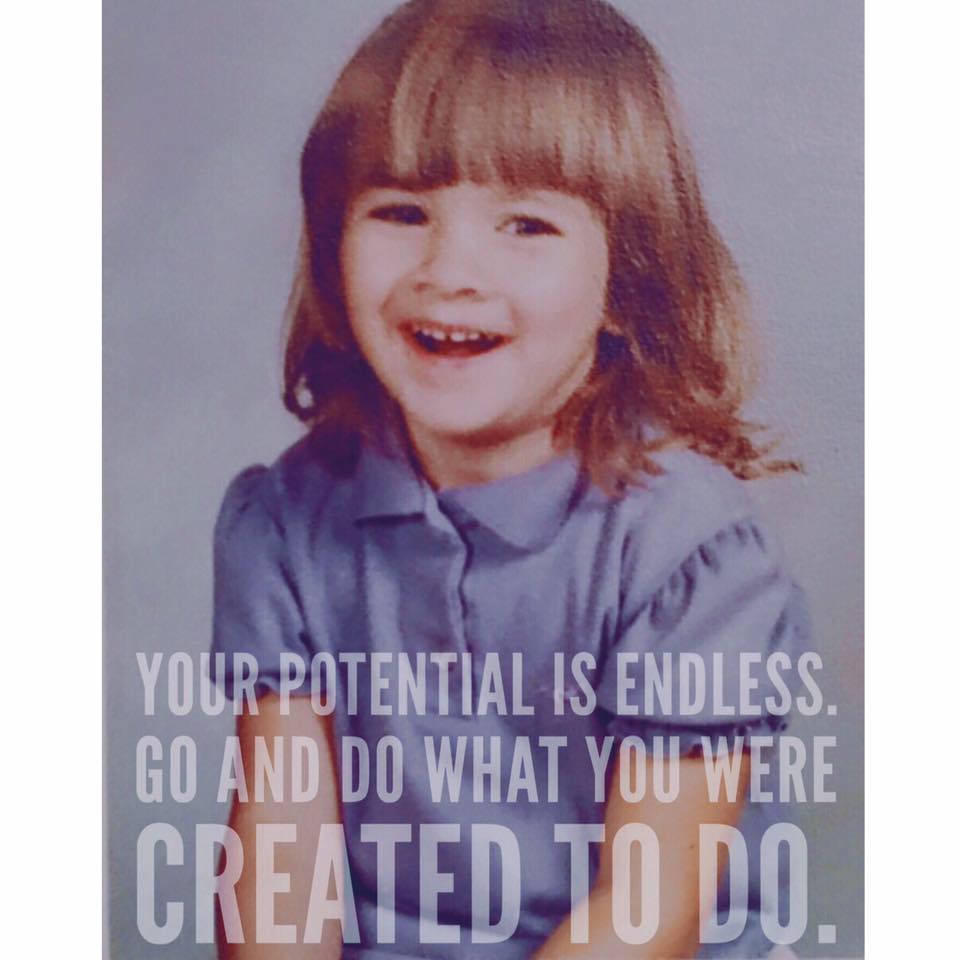 (Age 2. Circa 1983-84)
Keep on dreaming even if it breaks your heart in the progress.
In the words of Kanye…yes Kanye…"That that don't kill me can only make me stronger."
XOXO,
Christie Gee- Kellems
(Music by: Velour100. (Vintage Tooth & Nail Records goodness)