I first met Alison when we were both mall rats selling clothing at a high end store in Los Angeles called Traffic, in The Bevery Center. I instantly felt a calming and sweetness to her, which I was searching for since moving to Los Angeles from a Texas. We quickly realized we had a couple mutual friends and it was buds for life since then. I am beyond proud of what she has accomplished throughout the years. She is currently on tour with Meghan Trainor and is rocking that role like she was born to do it!!  She is one talented, beautiful and lovely soul and I am thrilled to share this interview with you. Enjoy!!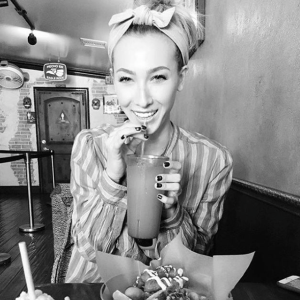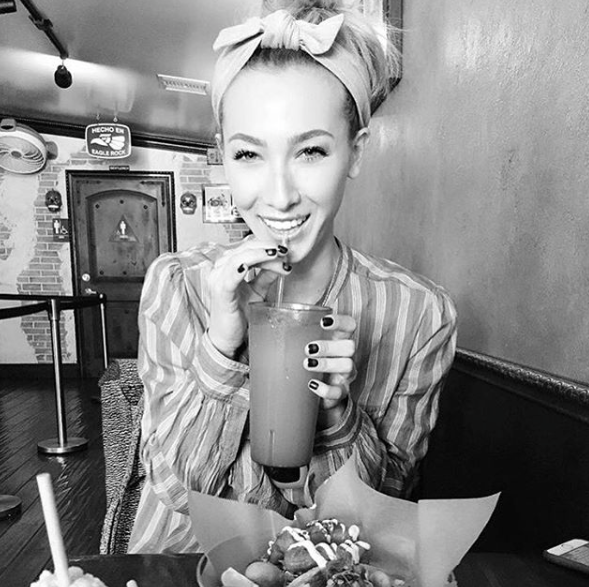 When did you know you had officially fallen in love with makeup?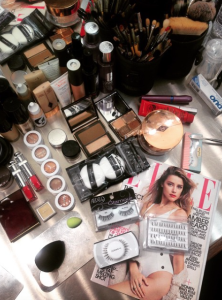 Ever since I was little girl, my mom was a MARY-KAY sales rep. She use to come home and bring her suitcase full on products.
I remember posting up at the kitchen table with her, flipping through all the eye shadow testers she'd get, I'd become so inspired by experimenting with all the colors. I could virtually change my simple self into another girl with the products that were in front of me. It gave me the option to feel fabulous, that's when I knew I had fallen in love with makeup!
That love has taken you to some pretty awesome places! You have been on tour with Meghan Trainor and seem to be having a blast! What has been the best part of that adventure?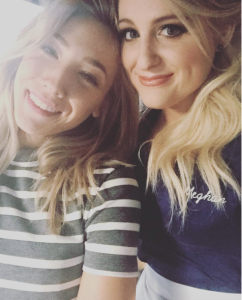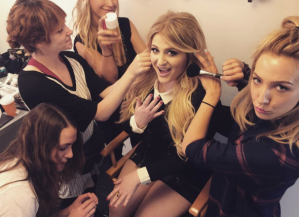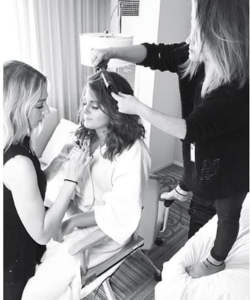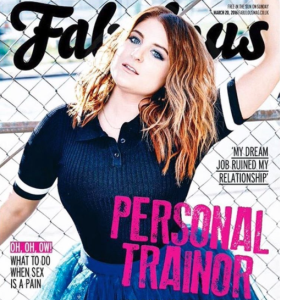 I have been able to see, and experience things I never imagined because of makeup. It's my job, but yet my job gives me life! Something that's super special, and close to my heart is my relationships I've developed during tour. My team I work with everyday, they have become my family, and my rocks. We all are very invested in one another, and are for one another, because of those relationships I've learned how to expand my job into more then just work, and technique
You recently introduced your blog, www.themadeupblog.com into the world! Tell us about that!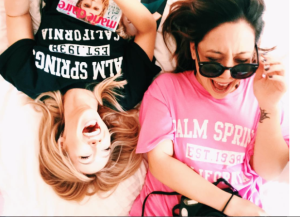 It's a very new baby, me and one of my girlfriends (who also does makeup) have been wanting to share our product knowledge, and all our tips and tricks we've been able to accumulate ourselves, and finally have a creative space to let people explore more of an insiders perspective on products and how do's. We also want to implement, and share our chaotic, but adventures life we can occasionally lead.
Let's talk about your favorite products!  Name your top five "must have" products every gal should have!
My top are usually ever changing, but these are some that I know are some of my solid "go-to's" for myself, and clients.
MAC Mineralized Skin Finish "Soft & Gentle"
Lowlight/Highlight Perfecting Palette (Poured)
What advice would you give to ladies out there like me, who are trying to understand this whole "right way to do makeup" thing? I love the idea of it all but it get's so overwhelming at times! What is a great start to understanding and applying that to our daily lives?
I say look for your top 3 concerns, and cover those bases so you feel good about yourself, and looking the best you. For me that looks like
1) Glowing skin, and sun protection, so a moisturizer that have SPF
2) Poppy eyes, so an eyelash curler, and some great mascara
3) I have dark eye circles, so I'll use a color correcting concealer, to hide that insecurity.
PS. I always feel pretty and done up if I have a good lip tint /color on. All these products are simple, and not over done. I always feel like I have my concerns covered, so then I can feel like I'm the best looking version of myself when I step foot out the door. Concerns change depending on each individual, but know yours, and look into simple solutions. Because there is no wrong way to do makeup…well I take that back, but what I mean by that is if your struggling, keep it simple, and refined. As COCO Chanel said "Less is more."
What's next in the exciting life of Alison?
As of right now, I'm home in la for the next few months with some light traveling. But for the most part, settling in my apartment in Los Feliz, trying to cook at home, seeing friends and family before I leave again on tour in summer.
Thank you so much, Alison. You, my dear are such a sweet inspiration to me and many other ladies out there. Keep up the amazing job. Can't wait to see what the future holds for you!
XOXO, Christie Gee-Kellems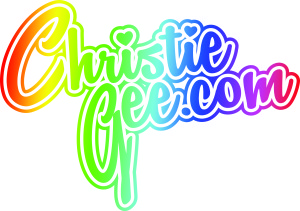 Follow me on Instagram for more interviews and other radical-ness!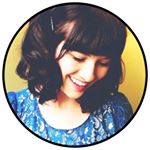 (click above photo)
ps. You are awesome and YOU matter. Never ever forget that.